BLOGS
Data Protection is changing. Get your free GDPR guide now!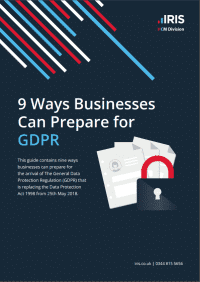 We have created a handy guide which explains the General Data Protection Regulation (GDPR) and gives you 9 ways your business can prepare.
The UK is set to undergo the biggest change to its Data Protection laws in over twenty years with the introduction of the Global Data Protection Regulation 25th May 2018.
These changes will replace the current Data Protection Act 1998 and provide more robust and up-to-date regulations for businesses to follow when handling customer data.
The Introduction of the GDPR will harmonise data protection laws across the EU and will update the current regulations to take full account of globalisation, and the ever-changing technology landscape.
Described as `Data Protection with Teeth`, from our very own Data Protection Officer Vincenzo Ardilio, employers who breach the GDPR will be hit with significant penalties including fines of up to €20 million or 4% of the businesses annual turnover, whichever is greater.

With less than a year to go until the big date, we've put together an 11-page guide which is free to any business that is looking for some extra helpful information whilst preparing the GDPR.
What You'll Learn
The key facts
The changes to the current Data Protection laws
If Brexit will affect GDPR
9 ways your business can prepare for the GDPR
How IRIS have been preparing
The IRIS promise to you



Download Your Free Guide Now
To ensure you are up to speed with the GDPR and doing everything you can do to prepare, download your free guide today by clicking the button below.