BLOGS
Are businesses making a conscious effort to improve their energy efficiency?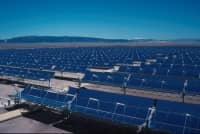 One of the main ongoing arguments that plagues small businesses is the idea of Corporate Social Responsibility (CSR) and the impact that this has on the organisation and environment in which it exists.
The reason that there is such an argument is to do with the underlying intentions of the businesses that go through the CSR process, especially when it comes to looking after the environment, reducing carbon footprints and increasing energy efficiency.
The sustainability of our environment is extremely important and the ongoing debate is over whether businesses are looking to improve their CSR standing as a company purely because they care about the environment that they are working in, or whether they are doing it because they are making their business look better from a marketing point of view.
Many of the CSR reports put together for large companies are all very glamorously presented with large images of solar panel fields and wind turbines but again - are they shouting about this because they are proud of helping the environment or because a well presented portfolio on how they're helping reduce climate change looks great to potential clients?
At the end of the day, the main answer to this is: Does it really matter?
Surely, as long as businesses are feeling a pressure to become more energy efficient, reduce their carbon footprint and be of a better service to their environment then this is a good thing, no matter how they go about it in their marketing material?
A recent study from the Federation of Small Businesses (FSB) found that nine out of ten small companies seek to be more energy efficient in their own business. And the evidence for the "CSR for CSR's sake" argument is very clear with a massive 78% of those businesses explaining that cost savings is the main motivator toward doing this.
However, 70% of those businesses also say that protecting the environment is an important motivator for action. Either way, 90% of businesses surveyed are committing to becoming more energy efficient and if this means that they are reducing their carbon footprint whilst being able to look good for it, then everyone is a winner.
The classic example was the supermarket plastic bag. Supermarkets managed to start charging money for plastic bags, that were once given out for free; and were given all the praise in the world for it while receiving money for something that they used to offer for free. While the 5p charge per plastic bag may not sound like a lot, if you consider that (according to the Guardian) supermarkets distribute around 8 billion per year; thats a lot of extra cash.
As of October 2015 however, the government will make this 5p charge compulsory across all supermarkets which they will have to pay towards charity (the government have since admitted that this will earn them millions in VAT charges, however according to the Telegraph).
When it comes to UK SMEs, the government have made them exempt from this "plastic bag tax" to help them further develop and decrease administration costs. 
This goes in hand with the FSB's national chairman when he stated that "Small businesses are really enthusiastic about energy efficiency and this desire should be capitalised on for the good of their business and the environment. However, what our research does tell us is a simple "one-size-fits-all" approach will not work as different businesses are driven by a diverse range of factors."
At IRIS, we understand this need for a tailored approach for small businesses as their needs and processes are different depending on a large number of factors. The barriers to entry toward improving energy efficiency found by the FSB's research was that 45% didn't own the premises they were operating from, 20% had a poor understanding of the options available to them and 29% had a lack of capital to invest.
Reducing the costs of distributing payslips and P60s to employees is unaffected by any of these barriers to entry. Switching to an electronic solution doesn't impact on the premises, its extremely simple to use and only costs you on a per employee basis.
IRIS OpenPayslips can reduce your costs for distribution by £1.75 per payslip, per employee. This saving is simply by cutting down on the amount of cost and time it takes to print out payslips, sort them and post them (with a stamp).
In addition to this, it is much more secure than paper payslips and recent court rulings have meant that you could be landed in court for emailing payslips in an unsecure way.
So, whether you are looking at increasing your energy efficiency, reducing your carbon footprint or making your business look better for clients (and employees) IRIS OpenPayslips will help you achieve these goals.
Find out more about IRIS OpenPayslips
We also have a free webinar that you can attend to find out more about IRIS OpenPayslips: