BLOGS
Are you one of the 2.8 million auto enrolment savers?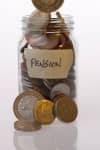 Auto enrolment, the flagship component of the government's workplace pension reform, has so far helped over 2.8 million workers become members of a pension scheme, according to the latest figures from The Pensions Regulator.
The report showed that between July 2012 and January 2014 2,877,000 employees have been automatically enrolled into a qualifying pension scheme.
A spokesperson for The Department of Work and Pensions commented: "It is good news that more than 2.8 million people are making a positive difference to their retirement prospects through automatic enrolment. The changes to workplace pensions will help millions more people to secure a better future."
While these figures are a good start, 2014 will be even busier for auto enrolment, with over 32,000 businesses having staging dates throughout the year.
"Almost nine thousand employers have now registered with us declaring they have complied with their duties but this is just the start. Across some months in 2014 we expect to see a ten-fold increase on the number of employers automatically enrolling their workforce compared to the same time last year."
Due to the sheer volume of businesses set to stage, access to software, services and advice will be in high demand. This is why planning early is essential to ensuring your business is properly prepared for auto enrolment.
If you are still unsure about the steps you need to take, why not book a place on an IRIS Understanding Automatic Enrolment training seminar?