BLOGS
Competition Time: Take part in the quick survey for your chance to win free IRIS Training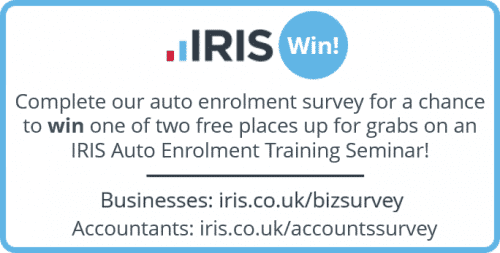 Complete the quick survey on auto enrolment and your experiences with the legislation for your chance to win one of two free places on an IRIS Auto Enrolment Training Seminar. The deadline is Midnight on Friday 29th May 2015.
If you are a business click here
If you are an accountant click here
At IRIS we want to further understand your journey through auto enrolment. As a company ourselves very much affected by auto enrolment, we empathise with the troubles that you have had, or will face and also appreciate along with you the successes and small victories that you have had.
To better understand, we must learn. This survey is your opportunity to help us further improve our knowledge of the challenges that businesses and accountants are facing.
This knowledge will be essential when helping us understand which ways we can support you throughout your auto enrolment process. This could range from training content, to the way that the IRIS AE Suite™ works, we develop and mould our processes to suit yours and this is your chance to be a part of the future of IRIS.
The questions vary from how much you know about auto enrolment, how long in advance you intend to plan for auto enrolment and also what your preferred solution will be.
The reason that we have two surveys is quite simple. The survey aimed at businesses is there to find out how well prepared people are for auto enrolment, if organisations are seeking support from anywhere and also it also give us a chance for you to voice any opinions you have of IRIS and the way that we have helped.
The survey aimed at accountants is slightly different in that it is aiming to find out what accountant's intentions are when it comes to offering auto enrolment services to their clients.
Completing the survey will also help us understand what the overall opinions of auto enrolment are within businesses and accountancies. There is a lot of research from the perspective of the employee but now we want to know what the businesses paying into the schemes think of auto enrolment.
The prize
If you wish to enter into the competition, all you need to do is enter a few simple details about yourself and your business/accountancy at the end of the survey to be entered into the prize draw.
The IRIS Understanding Auto Enrolment Training is a detailed session that you can either attend at a local seminar or from the comfort of your desk via an online webinar. You will have the chance to talk one-to-one with a professional IRIS Trainer to gain all of the insight you need about auto enrolment, how it will affect you and ask any questions you may have about the legislation.
If you are a business or accountancy and wish to have an opportunity to win a free place, you can enter by filling in the quick survey below: