BLOGS
LIVE: IRIS World 2020

We are reporting live today from the ICC in Birmingham
Catch up with all the latest updates through our live blog
Around 2,000 attendees are expected today
Follow our live blog below for coverage throughout the day
Share your photos and comments on social media using #IRISWorld2020
Welcome to our live coverage of IRIS World 2020. Follow us here for text and video updates throughout the day, covering all of the speakers and sessions, and for a selection of the best comments and pictures from social media.
Live Blog
4.35pm Thanks and goodbye!
We've reached the end of this jam-packed IRIS World after welcoming some of our customers on stage who have been with us for many years (see picture) We'd like to sincerely thank all attendees for coming along and we hope you'll be leaving armed with many practical takeaway tips that you can implement in your businesses and organisations. It's been fantastic to have all of you here and we wish everybody a safe journey home. We hope to speak to and see you all again very soon!
4.25pm Deep in debate
The panellists have been deep in debate on the hottest topics in the four sectors. Here are a few pictures of them in action.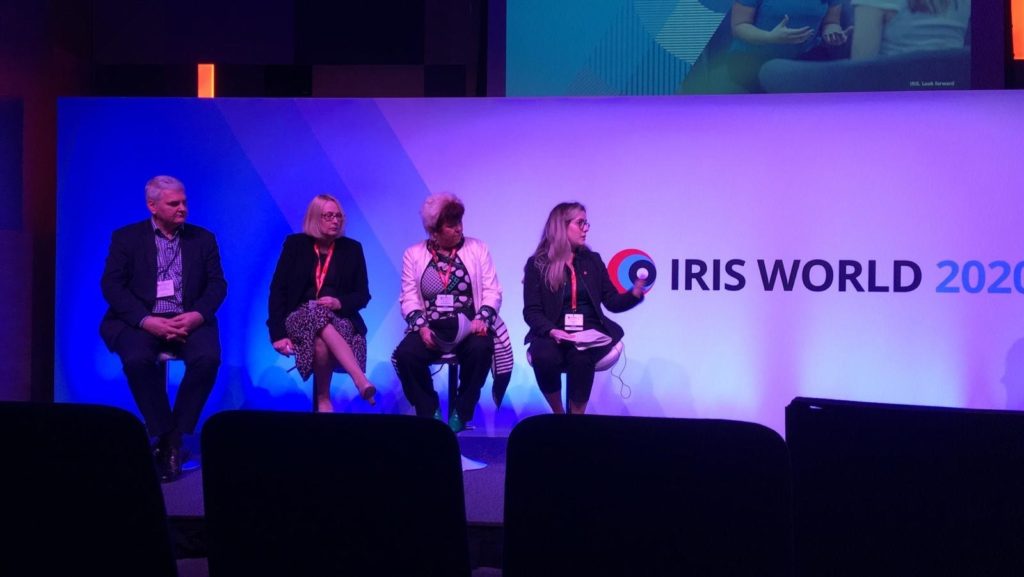 4.14pm Digital inclusion within education
The panel of education sector experts this afternoon have been discussing the question: what does a successful school look like?
Parenting expert Sue Atkins shares her thoughts on the importance of parental engagement: "It's about family learning, family engagement – getting involved in education - I'm a former deputy headteacher so I believe firmly in the positive impact of school leadership. Budget cuts do impact continued professional development – and that has a knock-on effect to the school culture."
Another question raised is: digital inclusion – is it still on the agenda for schools?
Ian Gates, customer success consultant for IRIS, says: "I think there's a hope, more than an expectation, to focus on digital inclusion. School staff have to hope and assume their students have access to tech at home. According to a survey conducted last year, seven hundred thousand schools don't have access to technology at home. And while that number is on the decrease, as it was four hundred thousand less than the year before, it's still a huge number of students who lack access to tech at home to complete homework outside of school hours. While schools can help, there are inevitably barriers. Schools can stay open longer – but that doesn't suit all families. There's a big gap for those who do and do not have access. I think there is an inclusion issue, still – it's getting better – but schools don't have the funds they need to support students who are not digitally included today."
3.53pm Concierge accountants?
Compliance is central in the discussion for the accountancy session.
Glenn Collins, ACCA's Head of Technical, believes it's "the lull before the storm", when asked about legislative change. There's a piece of legislation about data coming out which will impact on how accountants deal with clients – and it's due to come into force in September if it goes ahead, he warns.
He says more MTD news is likely soon as well: "I'd be willing to have a bet that MTD will be mentioned in the Budget (due next month)."
He adds that Brexit will continue to reverberate until next year.
Jenny Strudwick, tax expert at IRIS, also expects to see more information on the next steps for MTD in the Budget. She says MTD had been the catalyst for some to change how they work but had been a non-event for others.
Another hot topic that the panel have been looking at is business advisory services.
Martin Bissett, founder, Upwards Spiral Partnership, says accountants have the "financial intimacy" with businesses to be the trusted adviser.
"We're not in the accounting business, we're in the relationship business," he says, adding that advisory services are increasingly important. If you want to increase profitability accountants have to be the people clients entrust their future to, he says.
John Thompson, Managing Director, F3C Advantage says he thinks there's a "true opportunity to be the most trusted advisor" for the accountant, saying they can take on a "facilitator or concierge" type of role.
"That role of sitting next to the lonely business owner is a powerful one," he says.
Brian Coventry, CEO at Symphony, says the advisory shift is not happening as fast as it should and adds there is no "next big thing for accountancy per se".
3.22pm Panel debates coming shortly
All the hottest topics across the four sectors are to be debated by panels of industry experts for the last sessions of the day. Steve Cox, IRIS' Chief Evangelist, pictured here, is hosting the accountancy discussion, looking at the latest trends and finding out what are the tried and trusted methods firms are using to achieve success.
David Lockie, IRIS Chief Operating Officer, will chair the payroll session, talking about what's around the corner for legislation after the perfect storm of RTI, AE and GDPR has passed.
IRIS Chief People Officer Steph Kelly will host the HR panel, exploring how job roles are changing in today's digital workplace. For education professionals, panellists will try to answer how schools can continue to improve when there is so much uncertainty around the newly-elected Government? Product Director Winston Poyton will chair this session.
Continue to let us know your thoughts on Twitter by using #IRISWorld2020.
2.55pm The changing landscape for HR
Lowri Williams, HR Officer at Silkin Lewis, is talking in the HR Session about how Cascade wasn't used to its full potential for payroll reporting in the past and it's something she has been glad to change since taking up her role. It has helped to analyse bonus costs, overtime costs, and can help a lot more for budget forecasts for next year, Lowri tells the audience. She explained how her reports showed that how the firm can save money 6 months down the line. She says it's about making informed decisions.
Bravery and kindness is the theme for her company's 70th anniversary this year. In the future, she says she is looking at being brave with how her department moves forward with tech and keeping up with advances and not being a "stuffy old firm because that's the way we always did it".
Moving away from traditional hours – Monday to Friday 9am to 5pm – is another area that she is looking at in the coming year.
Talking of hot topics, the multi-generation workforce is one in HR at the moment, with employee expectations changing as 'digital natives' (young people who have grown up with sophisticated technology as standard) are making up a significant part of the workforce. Check out recent coverage from in HR Grapevine on this very topic – one that we expect will come up in the panel debate later. In fact, it's an article by our very own Chief People Officer Stephanie Kelly.
.#Technological breakthroughs are transforming traditional ways of working. To find out more, check out our feature in @HRGrapevine by our Chief People Officer Stephanie Kelly... https://t.co/jmEq6Gk0kZ pic.twitter.com/rDMcN111zW

— Cascade HR Software (@CascadeHRMS) February 6, 2020
2.30PM Insights into IRIS Elements
Customers have been hearing about the latest with IRIS Elements today.
Our team have been explaining that it is about using your data intelligently to support your business and helping you coach your business to ensure no one drops the ball. Below are some screenshots showing how the new platform is looking so far.
2.15pm 'There's been so much to take away' - customers react
We've had some great reactions from customers via Twitter using #IRISWorld2020. Here is a selection of some of them below. Keep on sharing!
Indigo are at #IRISWorld2020 today! Great talk by @stevenccox @IRISSoftwareGrp pic.twitter.com/dtnLrcGMU4

— IndigoTax (@IndigoTax) February 11, 2020
Really useful seminar from Winston Payton of #IRISWorld2020 #MAT #EasyPeasy pic.twitter.com/p5hXfh6dWk

— Aiding Mental Health (@aidingmental) February 11, 2020
#IRISWorld2020
Excited about the new changes being made to CASCADE HR software. Streamlining processes.

— Julie Blackburn (@Bubbleslive) February 11, 2020
Great morning so far at #IRISWorld2020 ... We loved listening to @callybeaton too! #Accountants #IRIS pic.twitter.com/hWJmmtLULh

— Butterworth Barlow (@ButterworthBar) February 11, 2020
Kate and Amy are enjoying a day of updates and insights from the many motivational industry speakers and experts at @IRISSoftwareGrp. #IRISWorld2020 pic.twitter.com/DQJj1DcCnE

— Sheen Stickland (@SheenStickland) February 11, 2020
#IRISWorld2020 have to say that there's so much to take away from this mornings sessions

— Johnathan Dudley (@JohnathDudley) February 11, 2020
1.58pm: Harnessing the power of your products
The next sector workstreams coming up shortly will be focusing on making your software work to its full potential.
Becki Hicken will be talking to HR customers, Veerinder Bhoda will be leading the education session, and David Parker heads up the accountancy session. Meanwhile, David Bloxham will be discussing maximising time for payroll professionals.
Designed to ensure you get the maximum value from our software, you will be able to discover how to improve efficiency, save time, and other great ways your practice can reap the benefits.
1pm Changing payroll legislation
While we're on the networking break, we'd like to quickly flag up an excellent free guide we have for those of you working in payroll. Focused on payroll year end, it drills into a few key updates to payroll legislation that you need to be aware of, including:
Statutory Bereavement Pay
Company Car Tax
Employment Allowance
Sporting testimonials
EYU to Previous Year FPS
You can get the full details and download the guide HERE.
Changing legislation will be a key part of the panel debate we have ready for you in the last session of the day from 3.30pm. The panel of industry experts chaired by David Lockie will take place in Hall 4.
12.50pm Product Road Map revealed
The product road map is revealed to accountancy customers. The roadmap overview is shown in the image below.
The AML phase 1 of IRIS Elements is going live today and will give complete workflow for an individual. In May, it will give you the same workflow for the company and allow you to go back into the desktop to retrieve key information.
Also announced is the aim that Personal Tax as a cloud solution will be delivered by the end of the year.
Customers are encouraged to help shape the design of IRIS Elements by emailing elements@IRIS.co.uk.
The Top 5 takeaways from the accountancy product session, particularly referring to IRIS Elements, are:
Continued Investment
Innovation in new tech
Adopted at your pace
Designed with you
Available now
Visit the Expo Hall to see a demo of IRIS Elements
12.41pm IRIS Training Centre launches
One of the big announcements of today surrounds that of the new IRIS Training Centre, which offers free CPD-accredited courses. It's being discussed and shown now by our Product Director Paul Onions to the audience in the main hall.
With lunch and networking about to start, you can discover all about it by visiting the Product Manager Zone. The team will be delighted to see you.
You can also read more in our blog here. Here's a quick summary:
Among the enhancements on offer are:
• A fresh, modern interface with a cleaner look and feel
• An enhanced, friendlier user experience
• New and updated content
• A back catalogue of training videos
12.26pm What's the future of work?
The future of work is here, with high workforce expectations putting increasing demands upon HR. But how do you provide the human touch in this digital workplace? Leading HR professionals are talking about this right now in our breakout sessions.
While we're on the subject, check out this thought-provoking film from the Cascade team designed to empower HR professionals to leverage the potential that future change can bring to the workplace.
11.57am Accountants talk tech
At the accountancy session, three customers are on stage talking about technology.
Delivering quality and consistent requires clean data, productive staff and #automated processes. Our Growth Director, Gareth Charles, shares how you can drive positive impact on your clients and progress on your goals. #IRISWorld2020 pic.twitter.com/Rr0MrL4NyE

— IRIS Accountants (@IRISaccountants) February 11, 2020
Stuart Harris, founder of Stuart Harris Associates, says tech has enabled staff to work better and that the work life balance that IRIS and other tools enables "is absolutely brilliant".
Alistair Barlow, Chief Dreaming Officer at flinder, agrees, saying: "With cloud and tech you can work wherever you want whenever you want."
Stuart says: "I love my gadgets but you have to use them in the right way. The IRIS software is so powerful, it's integrated, does the number crunching quickly and gives me time to think and review."
He says he has smaller family businesses as clients. He reiterates that service is personal but the tech behind it is crucial and helps to run the business properly. It's not just about tax returns, it's about running and growing business, he says.
He adds: "I make a joke about being the friendly accountant – it's my marketing – but its so important to explain things in plain English."
In terms of what his business does, Alistair says it's about data analytics and consultancy: "We are not just there to run payroll and file statements. We are there to help businesses meet their potential faster than they would without our support."
He says clients look for someone who can enrich and add a lot of value to them.
"For us we look to help the business as a business. We don't look at just financial data." He says it's about getting a flavour and colour from more detail than just that and also about why something is happening. It's about telling a story of what's happening in the business to, ultimately, help improve revenue, he explains.

1,440 times a month or every 30 minutes clients get new real time information on elements of accounting and business for accurate, relevant decision making, he says. He adds that IRIS Elements is a solution that is exciting him and he is looking forward to using it.
David Jones, Director of Innovaiton, at Lewis Brownlee, agrees that IRIS Elements is an exciting development for his business and he's already been trying it out as part of the trial group in the last few months.
He identifies the talent gap as an increasing issue for accountants. He says it is getting even more tricky, with a generation brought up with coding quickly becoming part of the new workforce.
11.46am 'We want them to teach, not worry about finance'
Presenting our education customer showcase, Education Product Director, Winston Poyton, introduces Katie Campbell, Head of Finance for Bishop Wheeler Catholic Academy.
"The MAT was established in 2013 and was made up of 6 schools. At this point, there were no standardised policies - the schools were each doing their own thing. Now, it's very different. We have a centralised finance team. While the schools have the buying power and place the orders, my finance and procurement team then take over. We have control and support schools in their finance management.
"As a process, getting to this point was a bit stop/start. But schools want to get on with the important bit – teaching kids. We enable them to do that by alleviating admin. We want to free up the head teacher's time – we want them to teach, not worry about finance and assets and so on. And so, they're very happy to engage with us and the software."
Our Product Director Winston Poyton is showing the latest product information across our #education portfolio to enable schools and academies to look forward with certainty. #IRISWorld2020 pic.twitter.com/lmbDcYIrM5

— IRIS Education (@IRISEducation_) February 11, 2020
Katie says: "We use the full spectrum of PS Financials. We also utilise PS Purchasing, which is very straight forward and simple for the schools to use. When directors are asking me for information on our financial position, PS Financials provides the visibility I need to respond – it's essential for us."
"I need visibility at all times. PS Financials is cloud based and provides that transparency. Our MAT will expand and so our technology has to work for us; it needs to grow with us.
"We use PS People – we brought payroll in house. PS People integrates with PS Financials. It's been useful in allowing us to deliver on HR tasks, such as reporting on gender gap. The platform relieves us of time-consuming manual admin and reporting tasks."
11.31am What do customers say about IRIS?
We're about to get underway with the customer case studies now, with leading figures from each sector to discuss their success stories in the breakout sessions. Before we do, have a listen to what long-time customer Jones & Co accountants had to say about IRIS Hosting and IRIS Docs.

11.04am Customer success stories
The education breakout sessions are coming up shortly and we'll be hearing from customers about their success stories. A recent example of IRIS software helping schools comes from Langstone Junior Academy, which saved over £9,000 by utilising parent engagement technology to save time, reduce workloads and support student learning.
Lorraine Reeves, Administrator, said: "As a team, we wanted to make the most of ParentMail and everything it had to offer. I started from the beginning with the platform and learned everything there is to know to make it work for our school. Today, we wouldn't be without it!"
Read the full case study here
11am Time for a coffee
It's time for delegates to enjoy a spot of networking - as well as a much deserved coffee and cake - before they head into sector specific keynotes and discussions.
10.45am 'I've danced with Beyonce!' Cally Beaton takes to the stage
We're welcoming on stage, Media Executive, Entrepreneur and comedian, Cally Beaton, who includes among her career credits bringing Sponge Bob Square Pants and South Park to our televisions.
She tells the audience: "In my career, I've had the pleasure of dancing til dawn with Beyonce, I've had dinner with Idris Elba – but never in my wildest dreams did I expect to be at a software conference in Birmingham. So my first advice is dream big, guys! These things can happen to you, too.
"There are many different versions of the self; on days like today, we have our professional hats on. We have a self we portray to the outside world. And then there's the self that we really are. So how do we bring our own self to work? Commerical excellence will flow from human connection. So the disparity between my two selves had to change.
"We've all heard of imposter syndrome – the fear of being found out; individuals with the incapacity to internalise their own success. When you feel like an imposter – rather than turn the volume down on yourself, turn it up – and be a disruptor – a positive disruptor for yourself, your colleagues and your organisation."
"As you sit here with me now, think about being completely present. What happens if you park your thoughts about later, the emails, the worries? I promise, all that stuff will still be there later. So open your minds and be curious – and wonder what you're going to get out of this day. You are doing IRIS a huge honour by being here. Think about turning up – and what could happen, if you do."
10.29am IRIS Elements and our vision to design an eco-system
JF Sullivan, Chief Product Officer, moves on to discuss IRIS Elements, our next generation platform, which we launched in late 2019. This is at the heart of what he's been saying about innovation.
He says: "For those of you who are accountancy customers, you'll be familiar with the discussion around the move from desktop to cloud. That's not what IRIS Elements is all about; we take desktop along for the ride. We'll continue investing in desktop. With Elements, data syncs seamlessly from desktop to cloud. You don't need to dump your current technology; the cloud is going to happen for you."
He concludes: "Our vision is to design an eco-system in which, while you're doing whatever you need to do in your organisation, our technology is able to adapt and extend to achieve what you need it do."
10.25am It's all about innovation
Chief Product Officer JF Sullivan says: "We're innovating; but how are we innovating, why are innovating – and what does that mean for you? We're driven by the millennial generation, to adapt; we're driven by data and service delivery; these are the reasons we are having to innovative."
He continues: "But how are we changing? On our evolution journey we realised that all of our technologies need to integrate and work together, providing the services required by our various sectors."
For any successful transformation to take place, there are components, he explains. Our first component is people. Not only our people – those who deliver technologies - but also you; our customers. We needed to change our customer dynamic.
JF says: "This leads us to the second component; processes. To bring you along on our product journey, we needed to change our processes. Bringing about our customer advisory board – an agile customer development group who drive our two week sprints which results in something brand new to help you. And the final component is technology. We needed to review the way we support our customers to move forward to the cloud. Enabling us to adapt, scale and modernise."
10.01am A focus on products
Next up on stage, we now have the keynote session on how modernising your approach is key to keeping up with competition in a changing market. Chief Product Officer JF Sullivan shares the importance of understanding customers in order to deliver software which supports business and addresses challenges - enabling you to look forward with certainty.
9.53am The IRIS mission
Chief Executive, Elona Mortimer-Zhika, shares our vision this morning, saying: "Our mission is to be the most trusted provider of mission critical software; we get it right for you, first time, every time. That is our bar and we reach it."
"It is no mistake that our values, decided by our employees, spell IMPACT; we want to be innovative; we make it happen by delivering on our promises; we are passionate about building an IRIS that works for you; we are accountable and we take pride in focussing on our customer. And last, but by no means least, we work together as a team – because together, we are stronger and we are passionate about making an impact for you - our valued customers."
"Our 3 pillars - compliance, productivity and engagement – support you to grow your business. We remove the mundane tasks so that you can focus on what matters most to you."
Elona also explains how our customer panels are sculpting our product roadmap. We're working with you to future proof your business, with technologies to grow and scale as you do. To achieve this, we're evolving our products and our business by building #1RIS; an IRIS which is bigger, better and stronger for you, providing a unified experience, with consistent customer service, regardless of the solution you utilise from us.
Our CEO @E2ONA is kicking off our #IRISWorld2020 event. She talks about the power of diversity, how we can support you through challenges with technology and meet your evolving needs, so you can look forward with certainty. pic.twitter.com/yBf8e1P20F

— IRIS Software Group (@IRISSoftwareGrp) February 11, 2020
#IRISWorld2020 Such an interesting opening by the CEO

— Joan Swain (@joanswain) February 11, 2020
9.37am 'We're delighted to have you here' - CEO welcomes customers
Chief Executive, Elona Mortimer-Zhika, shares a warm welcome to all of our guests this morning, from across our sectors; education, HR, payroll and accountancy customers are joining us at IRIS World 2020 for the first time – welcome!
She says: "We are delighted to have you all here with us under one roof for the very first time!"
She shares her personal experiences of the power of collaboration, resilience, knowledge and the power of diversity: "IRIS is home to so many wonderful, best-of-breed brands; each of them stronger together."
9.30am IRIS World keynote sessions about to get underway
IRIS World 2020 has started. Audience pumped. Speakers ready. Let's go! #irisworld2020 pic.twitter.com/EV9ykJpW28

— Nick Gregory (@itsnickgregory) February 11, 2020
9.19am Here's today's line up
The keynote speakers will begin from 9.30am and first up we have IRIS Chief Executive Elona Mortimer-Zhika.
She'll be followed by Chief Product Officer JF Sullivan and then by Cally Beaton, media executive, entrepreneur and performer
9.12am Expo Hall is buzzing
Here's a taster of how the Expo Hall is looking as the event gets close to being underway.
8.54am Exhibition hall is open as customers arrive
Delegates are arriving in their droves! The ICC is beginning to fill up as the excitement builds for today's event. Are you among today's attendees? Join in the fun by sharing your pictures and comments via Twitter using #IRISWorld2020. A selection will appear on this blog later.
Below you can see some of the IRIS team in the expo area.
8.08am Product updates on show
As always, we've got lots of products updates to announce today and among them we're delighted to tell you about new functionality for IRIS and PTP Accounts Production Charities customers, which will be available from tomorrow. For a start, it means 78% faster report generation!
Come and visit us at the accountancy demo computers today to see it for yourself.
Key benefits include:
IRIS Interactive Reports provide a complete workflow for viewing, editing and finalising accounts
Edit every aspect of final accounts including client details, account descriptions, disclosures and notes
Add, amend or cancel postings
Bookmark navigation, giving single click access to any section of the report
Exception and warnings reports
7.41am IRIS stars in Telegraph video

As we build up to today's event, we thought we'd share this with you. Did you see that IRIS has a starring role on The Telegraph website right now? It's part of the news organisation's Connecting for Growth campaign, which celebrates fantastic business stories.

A new video explores how our operational software is the invisible but essential beating heart of our customers' businesses, making sure mission-critical functions work first time, every time. Watch the video, including interview with our CEO, Elona Mortimer-Zhika, below:


7.19am Gaining a better work-life balance

Work-life balance is going to be an important theme at this year's event. We recently created a video on this topic, which can be seen below. Following the intensity and long hours of the December and January busy season, many accountants will likely be thinking about how they can get more time back. IRIS Customer and speaker for today, Kevin Whitehouse, founder of Prime Entry, recently talked to AccountingWEB about this subject recently, saying it's one dear to his heart.

"Most of us think: 'If I work hard enough and fast enough and get all my tasks completed, then I'll have time to think and plan and create and generate ideas'. No, it doesn't work that way. You must make time to think, plan, and create or it will never happen."

7am: IRIS World 2020 brings all IRIS customers together
IRIS World is bigger this year than ever before, uniting customers from across all our brands in the Accountancy, Education, HR and Payroll spaces under one roof for the first time, to learn more about new developments in technology and legislation.
As we begin the build up, here's a snippet from AccountingWEB's recent preview of IRIS World. Check out the full article here: For the past 15 years, IRIS has run the event as a forum for its accountancy customers, but this year the software vendor is also bringing together customers from payroll, HR and education into one space. The synergised approach makes sense considering the acquisitions IRIS has made in these sectors in recent years, whether that's snapping up Star Payroll in 2018 or education software PS Financials.

"Bringing all our customers together will demonstrate the importance of compliance, productivity and engagement - all the key components needed to help accountants further their relationships," said IRIS Chief Evangelist Steve Cox.

6.49am Don't forget the IRIS World app!
If you haven't seen it already, we've got a fabulous dedicated app for IRIS World 2020 for you to download onto your smartphone. It will help you to get the most from the day and to interact with your fellow attendees. Please check out the Twitter video below for a sneak preview and for instructions on how to get it.
Only a few days to go until we welcome you at the ICC in Birmingham for #IRISWorld2020! Don't forget to head to the App Store or Google Play store and download our 'IRIS World' App to stay on top of the agenda, guest speakers and get involved in competitions and much more... pic.twitter.com/oHwjQjVNbb

— IRIS Software Group (@IRISSoftwareGrp) February 9, 2020