BLOGS
The auto enrolment capacity crunch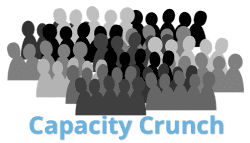 Capacity crunch. No, not some form of pension-inspired breakfast cereal but in fact an issue that is only set to grow now that SMEs begin to reach their staging dates.
With around 46,300 businesses set to reach their staging date in 2015 alone (with that number rising exponentially through to 2017), more and more employers are looking for pension resources that simply aren't available. This "crunch" is manifesting itself in the form of pension providers turning down "unprofitable" business and advisers deciding, not to advise.
While the legislation for auto enrolment is compulsory, early indications show that businesses agree and are happy with the new workplace pension reform. Research conducted by The Pensions Regulator (TPR) shows that the majority of small and micro employers think that auto enrolment is a "good idea" and there is a generally high understanding of what their responsibilities are. Tim Jones, chief executive of National Employment Savings Trust (NEST) explained that research also showed that 7 out of 10 employers agreed that workers should have access to a workplace pension.
The research also showed that these businesses want a quick and fast solution to auto enrolment and not have to spend a lot of time having to implement it. As a result of this, there is a lot of emphasis on gaining advice and help as well as outsourcing the whole responsibility to a third part such as an IFA, accountant or payroll provider (approximately 3/4 of small to micro employers according to NEST).
Without context, these figures and statistics are very positive; it shows that there is a large positivity around auto enrolment, a willingness to take part and an understanding of the importance to comply with the legislation.
The reality of the situation however is that a growing majority of pension providers and advisers don't show the same brimming enthusiasm. 
Research conducted by Defaqto in November 2014 found that 1 in 5 advisers will not advise the smallest of businesses. This is because they feel it does not represent profitable business to them due to the amount of time and administration it would take.
The picture here is beginning to get much clearer. While businesses are actively in favour of auto enrolment and want to seek advice from a third party, they can't do so because the third partys don't want them.
Welcome to the capacity crunch.
The story continues with pension providers, The majority of which also feel that small and micro employers do not represent what would be deemed as a "profitable venture" because of the minimal amount of contributions that are being paid into the schemes. The low amount of pay into the schemes means that there is less money for them to make profit on, so many just don't bother and refuse the business.
The government backed NEST are one of the pension providers that has been set up solely with auto enrolment in mind and are required by law to accept any business that comes their way. Calls have been made in the past by the industry for there to be a published list of pension providers that would accept all businesses for auto enrolment. Following a consultation however, The Pensions Regulator decided to "shelve" this idea for the foreseeable future.
From a payroll provider's point of view, at IRIS we are also feeling effects of the capacity crunch. We are finding increased calls to our support teams asking for advice with software and auto enrolment. We increased our support staff by 25% which lead to calls being answered 20% quicker. 
In addition to this, we also invested £1million into our product development to ensure that our software was more streamlined and included an "Auto Enrolment Set-up Wizard" to help make the IRIS AE Suite™ easier to configure. 
TPR announced back in November that 166 penalty notices of £400 had been issued to those businesses that had not complied with their auto enrolment responsibilities. The fear is that as a result of the capacity crunch, this number will increase meaning that more and more businesses will be fined as a result of a multitude of reasons: not being able to find advice, not having enough knowledge about auto enrolment or simply not being able to get a pension provider in place, in time for their staging date.
IRIS host a number of auto enrolment training sessions that you can attend either in person at an event near you or from the comfort of your desk via an online webinar.
One way that you can ensure that you aren't held up by the capacity crunch is to streamline your entire auto enrolment process through the adoption of the IRIS AE Suite™. The IRIS AE Suite™ automatically assesses your workforce, distributes pension communications and publishes payslips and P60s electronically, saving you a vast amount of time.