BLOGS
The New £5 Note Enters Circulation Today Across England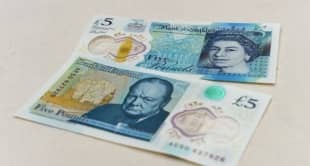 The roll-out of the new £5 note begins today. Whilst our money gets an overhaul, ask yourself does your payroll software also need a similar refresh?
Featuring Sir Winston Churchill, the new note marks the first time plastic notes have been issued in England, with other polymer notes having been distributed in Scotland previously. Each note is expected to last for over five years, which is around two and a half times the lifecycle of the current £5 note.
Bank of England governor Mark Carney said: "The New Fiver, made of polymer, will be cleaner, safer and stronger.
"Resistant to dirt and moisture, it will stay in good condition for longer. The new security features make it harder to counterfeit. While the use of polymer means it can better withstand being repeatedly folded into wallets or scrunched up inside pockets and can also survive a spin in the washing machine."
People may start to see the new note immediately at cash machines and bank counters but for others it may be a few weeks. Not all cash machines will be ready immediately, although only around 7% of cash machines dispense £5 notes in any case.
The old £5 note featuring prison reformer Elizabeth Fry will continue to be legal tender until May 2017. Polymer £10 notes are due to be introduced from next year and £20 notes by 2020.
Updated Currency, Updated Payroll
So, the wages your employees will be receiving is updating, but is it about time you updated your payroll software in general?
IRIS Payroll Business is user-friendly, intuitive, powerful small business payroll software designed to help small businesses handle complex payroll legislation easily. The software comes with many helpful and useful features, such as the ability to rollback past payroll data and generate various reports, as well as being HMRC-recognised.
IRIS software is regularly updated, helping you to stay on the right side of legislation, such as automatic enrolment, whilst also being user-friendly enough to learn and use quickly.
Book yourself on to a free, no-obligation software demonstration of IRIS Payroll Business using the buttons at the top and bottom of this blog, and learn how the software can save you time and hassle when running your payroll.