BLOGS
There are an extra 500,000 businesses set to stage following revisions
With recent increases in the amount of business start-ups and a lower number of closures than expected, The Pensions Regulator (TPR) have found that there will be around 500,000 more businesses staging than initially thought.
The new figures published last week in TPR's third annual auto enrolment commentary and analysis show that there is now a total of 1.8million businesses needing to auto enrol employees into workplace pensions over the next three years, greater than the originally thought 1.3million.
The executive director of automatic enrolment Charles Counsell said:
"Automatic enrolment has had a dramatic impact on the number of people saving for retirement in the UK – but the new analysis we've published today demonstrates that significant challenges still lie ahead.

As a result of more new employers starting up and fewer going out of business, the pensions sector will need to plan for larger numbers reaching the start of their duties. Thanks to automatic enrolment, saving for retirement is becoming the norm and we know most employers want to do the right thing by their staff."
These findings further magnify the influence that the capacity crunch will have in the next few years on small businesses. With more and more businesses staging each month, the squeeze on resources for auto enrolment such as pension providers and support will ultimately become more difficult to attain.
As explained in one of our previous blog posts, the nature of auto enrolment means that pension providers are less likely to take on the business only for auto enrolment because of the minimum amount of contributions. The business just isn't viable for them when the total contributions are only 2% (1%/1% split between employer and employee). Whether this will change as minimum contributions increase remains to be seen.
Therefore, it is extremely important that you take the advice of TPR and start preparing well in advance for your auto enrolment. If you are staging in 12 months or so from now, this may seem like a long time away. However, with the amount of work that is needed for auto enrolment, this really isn't long at all. Throw into this the squeeze on help, advice and pension providers between now and your staging date and it seems almost silly not to prepare early.
Getting auto enrolment right from the source of your payroll: your payroll software, is extremely important to ensuring a successful, long term auto enrolment solution. Your auto enrolment should be exactly that; "automatic", so choosing a solution that works within your payroll software seems the obvious choice.
The IRIS AE Suite™ automatically assesses your employees eligibility for auto enrolment as well as distributing payslips and P60s electronically. It then allows you to publish the legally required pension communications to your employee's secure online portal.
This streamlined process means that you ultimately save a vast amount of time. This is because it takes much longer to run auto enrolment manually or through a middleware provider. The difference between processing auto enrolment manually or via the IRIS AE Suite™ can be seen in the table below: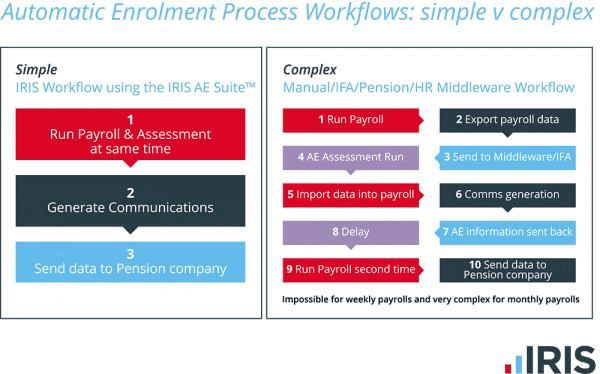 As you can see, running your auto enrolment via the IRIS AE Suite™ takes around 7 steps less on average than running the process manually, through your pension provider or via a third party middleware.
You can see the IRIS AE Suite™ in action to see just how simple it can be to use with one of our free, no obligation product demonstrations.