BLOGS
Will 2014 be the year you embrace the cloud?
2014 is going to introduce a number of changes which will affect the way you run your business. Setting goals or New Year's resolutions can help you prepare for these changes and continue to succeed and grow.
In this blog post we will be looking at one New Year's resolution in particular: embracing cloud solutions in your business.
If you want more information or would like more ideas for New Year's resolutions for your business, download the new free guide: 7 New Year's resolutions for your organisation.
New Year's resolution: Get ready to embrace the cloud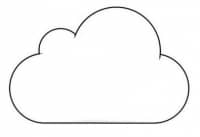 You may have already heard people talking about "the cloud" or "cloud computing" over the past year, and will certainly hear a lot more talk about it in 2014.
To put it simply, cloud computing refers to business applications delivered over the web, as a service. Being online means the solution is accessible through any device with a web browser (PC, Mac, tablet etc). This means that unlike with traditional software which you have to download or install onto your chosen device, cloud solutions are hosted online, or "in the cloud".
Cloud solutions have seen a huge rise in popularity and acceptance in recent years, with 75% of businesses now using at least one cloud based solution(North Bridge & GigaOM, 2013).
Technology is changing at such a fast pace, you need to be able to adapt in order to keep up with changing trends and new requirements.
Cloud solutions can offer you greater security for your data, allow you to ensure your software is constantly up to date, save you money and increase productivity.
IRIS offers cloud based payroll and cloud based bookkeeping solutions which you can try today, completely free!
Try IRIS OpenPayroll, cloud based payroll software