Changes to your MyEd app
It's official: the MyEd app is now more useful than ever.
We've redesigned the look and feel of the app from the ground up to meet tried-and-true user interface principles and best practice. The information you need most is cleanly displayed, so it's easy to find out how your child is doing at school.
New look
It still works on any device, any platform and anywhere, but we've made some changes to the way you navigate around the app. It's now more intuitive as we've made menus less cluttered.
When you log in, you'll find that the home menu now has three options: School, Students and Messages. Simply tap on the option you need, and you'll be taken straight to it. Less commonly used options have been moved to the menu on the top-left of the screen.
School area
The school information page has been redesigned. We've moved the most important options to the top of the menu for ease of access.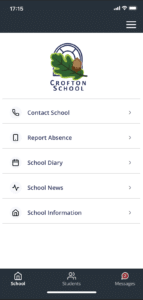 Students area
It's now possible for your school to add a picture of your child to their student page, which you might find useful if you have several children at the same school. You should also find it a lot easier to scroll and swipe through this section.
Messages area
It's important to have quick access to messages from your school, so we've refreshed this area for ease of use. You should now find it more intuitive to use.