Corporate Governance
We are committed to the highest standards of corporate governance and here you can find details about our policies, processes and information about our business.
Gender Pay Report
Our priority is to encourage and recognise every success with an emphasis on teamwork as well as individual contribution. We believe transparency, sharing and accountability creates a stimulating and rewarding work environment. That's why we publish our gender pay data every year.
2022

2021

2020

2019

2018

2017
Annual Report and Financial Statements
Our purpose is to be the most trusted provider of mission-critical software and services, ensuring customers get it right first time, every time.
During the financial year ended 30 April 2023, the IRIS Group ("Group") has continued to deliver against our strategic objectives, including expansion in North America and growth of our managed services and cloud revenue.
The key highlights of the year include:
Reported results for the year showing strong continued growth compared to the prior year
Alongside continued integration of the seven acquisitions completed in FY22 (Doc.It, Payplus, Conarc, APS Global, Dataplan, Every and AccountantsWorld), we completed four acquisitions during FY23, aligned to our strategic objectives

Paycheck Plus completed in May-22. Paycheck Plus manages Irish and UK payrolls for domestic and international organisations of all sizes. As Ireland's premier payroll provider, it provides an extensive range of payroll outsourcing services
myPay Solutions completed in Oct-22. myPay is a leading provider of managed payroll services in the US to small and medium businesses, which serves the whole of the United States and is a highly regarded partner to CPA firms
Networx completed in Oct-22, a leading Applicant Tracking System (ATS) and recruitment software and services provider in the UK, with whom we have already been partnering for several years. Networx provides simple, clever ATS and recruitment software and services to over 400 companies across the education, finance, legal, retail and hospitality and housing sectors in the UK
Apex completed in Feb-23, a leading cloud-based HCM (Human Capital Management) software provider for payroll service bureaus (PSBs) and Certified Public Accountant (CPA) firms. Apex's integrated HR modules also enable PSBs and CPAs to serve their SME clients with recruitment, onboarding, benefits administration and time and attendance software from a cloud-native platform

We have received recognition through the following accolades:

Bett Awards 2023 (Company of the Year)
National MAT Awards 2023 (Company of the Year)
UK Tech Awards 2022 (Tech Company of the Year)
Thames Valley Tech Awards 2022 (Tech Employer of the Year)
K2 Enterprises Awards 2022 * IRIS Americas (Prime Award, Technical Support Award and Small CPA Firm Solution Award)
Global Payroll Awards 2022 (Payroll Manager of the Year)
Vuzion Cloud Awards 2022 (UK Azure Partner of the Year)

We are proud that our accolades also extend beyond our products. We were thrilled to be awarded the prestigious accolade of a UK Great Place to Work™ for the third year running in November 2022. In addition, we have also been recognised as:

One of the UK's Best Workplaces Super Large (1,000+ employees) in 2023;

One of the UK's Best Workplaces for Women in 2023 (ranked #30);

One of the UK's Best Workplaces for Wellbeing in 2023 (ranked #42); and

Ranked ninth in the 'Super Large' UK's Best Workplaces in Tech in 2022
Reports & Updates
April 2023

October 2022

April 2022

April 2021

April 2020
For further information on the performance of the Group, including definitions and basis of reporting please refer to our financial statements. If you have any questions in respect of this information, please contact Sara.Lewis@iris.co.uk.
Governance at IRIS
In 2017, we set up an Information Security and Governance Forum that meets at least quarterly and includes members of our Executive team, the Chief Information Officer, the Group Head of IT and the Group Data Protection Officer.
We also have divisional information governance groups containing key stakeholders from each department to steer reviews and improvements to our departmental policies and procedures.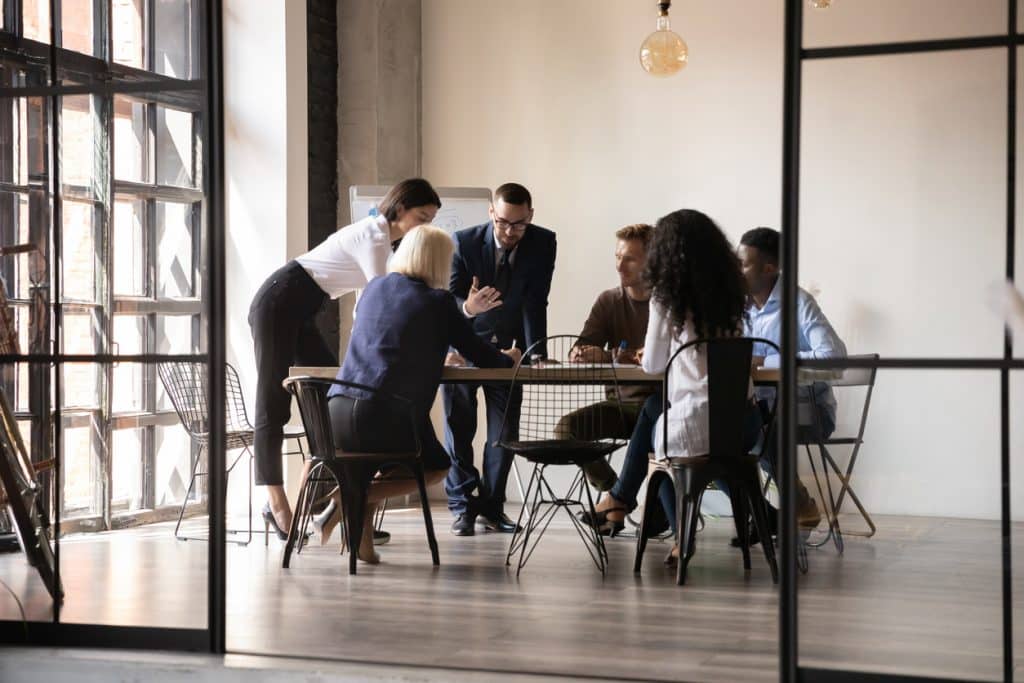 Review our documentation
This includes reviewing our policies, our supplier and sub-processor contracts, as well as any customer-facing documents, to ensure they include all the necessary data protection requirements.
Adopted company-wide protocols
We have a Group Data Protection Policy, personal data incident reporting procedure, actively carry out security checks on all staff on recruitment and have a Group summary of our Acceptable Use and Information Security Policies (this summarises the requirements of our more detailed Information Security Management System).
Our Group policies are available to our customers on request via their Account Manager.
Staff training
All colleagues complete mandatory corporate training on data protection and information security, rolled out on staff induction and each training session is refreshed at least once per year. Topics include:
Health & Safety Policy
IT Change management policy
Anti-Money Laundering Policy
Anti-Money Laundering Course & video
Prevention of Criminal Facilitation of Tax Evasion Policy
Anti-Trust Compliance Competition Law Policy
Anti-bribery policy
Anti-bribery training
Business Continuity Policy
Business Continuity Training/Presentation
IRIS Data classification and handling policy
IRIS Records Management Training Course
Privacy and Security Awareness Training course
IRIS understanding Privacy by Design Course
IRIS Phishing awareness training Course
IRIS Group Data Protection Policy
Information Security and Acceptable Use Policy
Sanctions Policy
ISO 9001 Quality Policy
What is Secure Coding (Training for engineering security group)
Transparency
We're aware our products and services may be integral to the processes that our customers implement in order to meet some of their own data protection obligations. Consequently, we have identified the need to provide our customers with more information about how certain aspects of our software work.
This will help customers (as data controllers) to identify how they process personal data and how it is shared with third parties such as HMRC and Companies House. We have, therefore, been producing guidance to assist our customers in this respect and to help their understanding of any non-obvious processes in order to incorporate this information into their own compliance plans.
Please contact your account manager for more information about the specific IRIS products you are using.
Other useful links about our policies and data protection
Useful governance information about our products
Understanding the new Data Protection Laws
We would strongly recommend customers seek their own legal advice if they are unsure about the implications of the new data protection laws on their businesses.
Legal Disclaimer
The information contained on this website is for general guidance purposes only. It should not be taken for, nor is it intended as, legal advice. While we have made every effort to ensure that the information provided on this website is correct and up to date, we make no promises as to completeness or accuracy and the information is delivered on an "as is" basis without any warranties, express or implied. We will not accept any liability for errors or omissions and will not be liable for any damage (including, without limitation, damage for loss of business or loss of profits) arising in contract, tort or otherwise from the use of or reliance on this information or from any action or decisions taken as a result of using this information.