Lease Management Services
Unlocking the true potential of your lease portfolio
A better way to manage your leases
IRIS Innervision's lease management services offer a complete solution for large organisations looking to better manage and stay in control of their lease portfolios. From identifying existing leases to negotiating new ones, our services provide everything you need to manage and report on your corporate leases — saving you time and money.
Improve strategic leasing decisions
Giving your business the tools needed to identify portfolio efficiencies and deliver cost savings, helping to align your leasing program with your corporate objectives.
Enhance productivity & control
Optimising and automating your leasing processes to, increase governance, accuracy and control over leases and reduce risks, leaving you free to focus on your core business goals.
Centralized lease data
View your entire lease portfolio in real-time and maintain compliance as your leases change. Ensure data accuracy and quality across your portfolio from one unified database.
Reduce costs & optimise spend
Consciously designed and flexible leasing services that help you deliver significant portfolio savings and improved efficiencies.
Our core portfolio services
Lease analysis
To improve your leasing arrangements, you need to understand what leases exist in your organisation. We'll analyse what you lease, what you pay and under what terms, so you can ensure you're using leasing effectively.
Lease arrangement
See all your options in one place. Invite quotes from your preferred suppliers, compare terms fairly, check the total cost — and arrange leases in minutes, all online. We're not brokers, so we exclusively act in your interests.
Lease management
Keeping track of corporate leases can be difficult, especially if records are spread across offices, countries, or continents. We'll consolidate your lease details in one place, then provide you with easy online access.
Lease expiry
The end of a lease's term is a good opportunity to re-evaluate, renegotiate, or simply walk away. We give you the time, information, and advice you need to make a good decision whenever a lease expires.
IFRS 16 Leases
On 13th January 2016 the IASB announced and published the new leasing standard IFRS 16 'Leases'. Discover what's changed, if there are any implications, and how IRIS Innervision can help you.
Full lease life cycle management
IRIS Innervision provides a market leading range of Lease Life Cycle services.
From new lease arrangement to end of lease, we can help you unlock the true potential of your lease portfolio.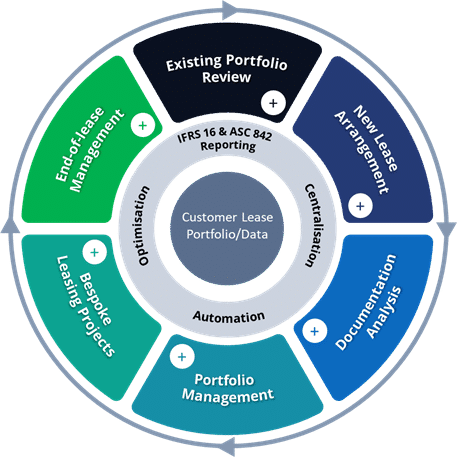 Why IRIS Innervision
We'll save you time and money by transforming your leasing
We provide a unique combination of tools and expertise that change how you think about leasing and help you reach your objectives. By outsourcing the management and obligations of your lease portfolio to our team, we will deliver savings, reduce risk, and optimise efficiencies on your behalf, leaving you free to focus on your core business activities.
Portfolio savings and efficiencies
Achieve best value for every product, in every region, under the best terms – every time.
Flexible services
Expert leasing services tailored to you and your business.
Global solutions
Innovative leasing solutions, delivered by experts – relied upon globally.
Trusted partners
Working collaboratively with you to achieve your strategic leasing objectives.
Unrivalled expertise
Leasing specialists offering technical expertise across all aspects of corporate leasing.
Empowering global brands
Trusted by FTSE 100 and internationally listed companies.
Don't just take our word for it
What our customers are saying.
"Today more than ever in business, I have an expectation that a service provider like IRIS Innervision will bring value-add to any organisation over and above the high standard of processing and reporting, particularly when it relates to leasing, which can be such a minefield for those not in that sector.  Innervision does all of this and more for us in Capgemini, which is why we value our relationship."
Lease management resources