5 year Financial Performance Reporting in a nutshell
Delivering better value and building stronger relationships with clients is an important part of growing your business and helping them to grow theirs. For this to happen a data led approach is critical to understanding performance, identifying new opportunities as well as spotting key trends.
IRIS Elements Financial Performance Review (FPR) builds upon IRIS Accounts Production data, allowing access to advisory enabling information from anywhere. Critical business KPI's at available at your fingertips on a single screen that you can either share with your client on screen or via a PDF report.
User-friendly Dashboard
An engaging dashboard in colour summarising your clients' historical financial performance for up to 5 years.
The dashboard consists of 5 components designed to provide useful insights relevant for most businesses.

Profits and revenue trend analysis.
Balance sheet performance over time.
Cost analysis for reporting periods.
Profit percentages.
Debtor/Creditor days.
Drill-down into the detail and share your report
The dashboard allows you to drilldown into the cost analysis figures.
It allows you to better understand trends emerging in your client cost base and identify variances.

Share your report in a simple pdf document that will help your support your clients' understanding.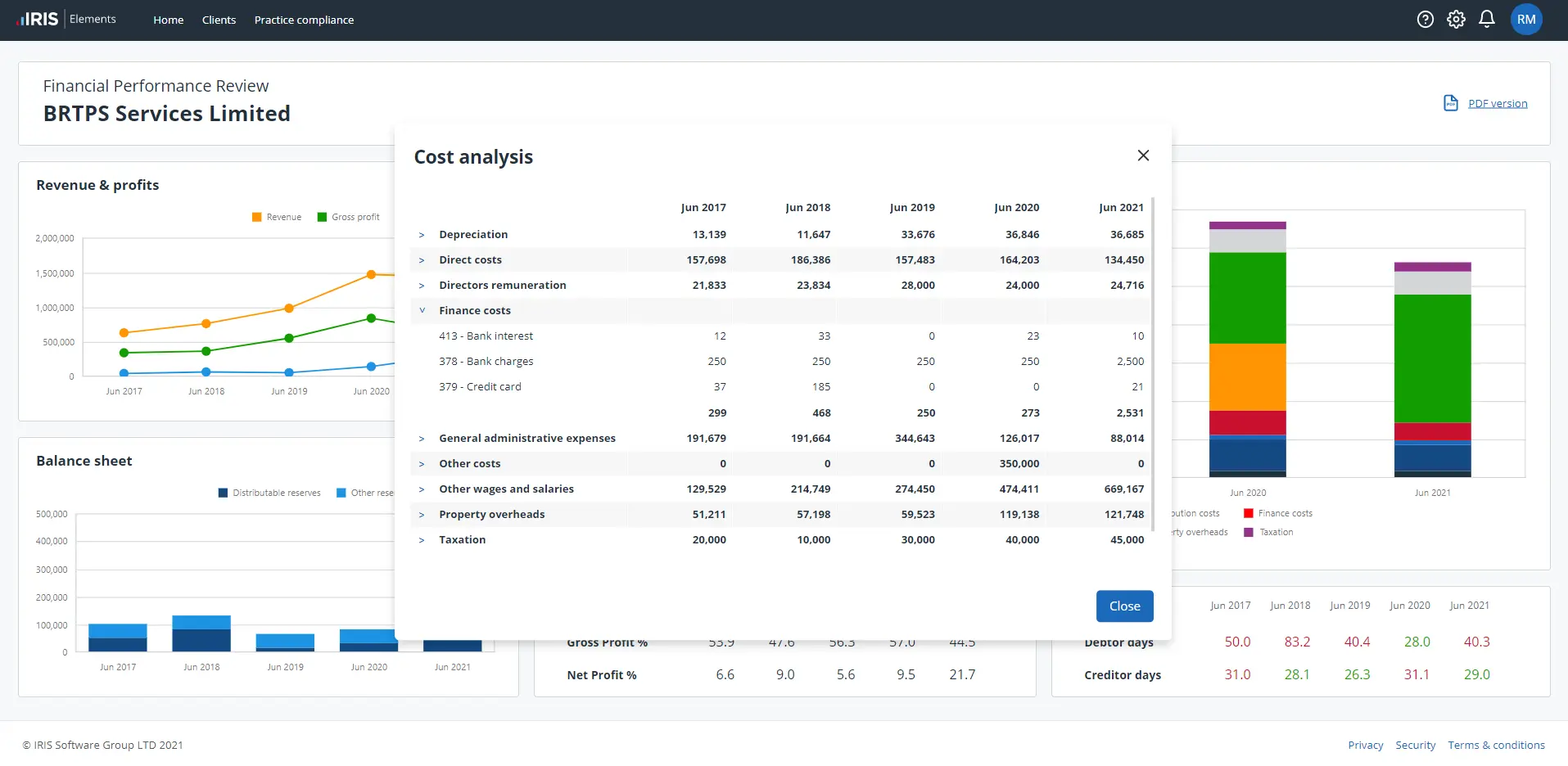 Why choose IRIS Elements FPR?
5 year reporting
Create engaging graphical reports for clients covering up to 5 years of financial performance data
Advisory-enabling
Use the report as a focal point for financial planning conversations with your clients
Drill down into the detail
Explore the detail behind the headlines to understand and explain interesting trends or unexpected variances in your cost analysis
Share your reports
Provide clients with an additional resource as a PDF or printed document