GP Payroll Previous Year Payroll
Before downloading, please take the time to familiarise yourself with the whole process. Failure to follow these steps correctly could lead to the loss of current tax year payroll data.
Please Note: These files are not suitable for networked setups of GP Payroll. If you are running GP Payroll over a network, please contact our support team for assistance

If you are at all unsure about any step in this process, please contact our support team for assistance.
1. On your desktop, find the shortcut for GP Payroll, right-click on this and select the option to "Rename":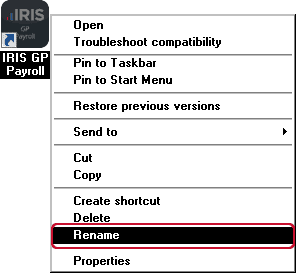 2. Rename your shortcut from "IRIS GP Payroll" to "IRIS GP Payroll Current Tax Year"
3. From the table below, download the payroll system data for the desired tax year.
4. Once the download is complete, run the file. This will start up the installation wizard. Click "Next" through the screens until you reach this step:
5. In the field "Directory for the payroll programs" you will see the text "\payroll". Add to the end of this text "\XXXXPayroll" where XXXX is the year of the file you have downloaded. eg. for 2010-2011 payroll year, we have downloaded the file 2010Payroll, this is what we add to the text:
6. Click "Next" through the rest of the wizard until the process is complete.
7. Start GP Payroll using the shortcut we renamed in step 2 to load the current year payroll data. You may see a new shortcut has been created on your desktop, do not use this to start the software, this will default to the old payroll tax year.
8. Once logged in go to "Setup/Options" > "15-Previous years Payrolls". Select the tax year you wish to enter and click "OK" You should see the following message (tax year dependant):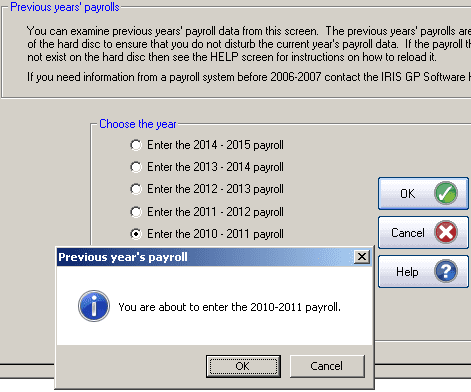 9. Click "OK". You will be returned to the login screen for the selected tax year. Please Note: This will be an empty, trial version of GP Payroll, you now need to restore some backup data from the tax year you have selected to view your payroll details.
Download previous year payroll data:
Previous Tax Years Payroll Downloads
Tax Year
Program Version
Suitable For
Download
2005-2006
v2005.3
Year End Data 2005-2006
Click Here
2006-2007
v2006.3
Year End Data 2006-2007
Click Here
2007-2008
v2007.3
Year End Data 2007-2008
Click Here
2008-2009
v2008.3
Year End Data 2008-2009
Click Here
2009-2010
v2010.1
Year End Data 2009-2010
Click Here
2010-2011
v2011.1
Year End Data 2010-2011
Click Here
2011-2012
v2012.1
Year End Data 2011-2012
Click Here
2012-2013
v2013.1
Year End Data 2012-2013
Click Here
2013-2014
v2014.1
Year End Data 2013-2014
Click Here
2014-2015
v2015.1
Year End Data 2014-2015
Click Here
2015-2016
v2016.1
Year End Data 2015-2016
Click Here
2016-2017
v2017.1
Year End Data 2016-2017
Click Here
2017-2018
v2018.1
Year End Data 2017-2018
Click Here
2018-2019
v2019.1
Year End Data 2018-2019
Click Here
2019-2020
v2020.1
Year End Data 2019-2020
Click Here
2020-2021
v2021.101
Year End Data 2020-2021
Click Here