An error has occurred: Data type conversion error
An error has occurred: Data type conversion error
When saving changes to employee details user gets the following error:
"An error has occured: Data type conversion error."
The error is with your Windows Regional and Language settings.
The short date format is causing the error. This should be set to the format dd/MM/yyyy – all other options will cause errors with various payroll functions.
Go to "Control Panel" (For Windows 8, You can access "Control Panel" by pressing the "Windows Key" + "X" on your keyboard) :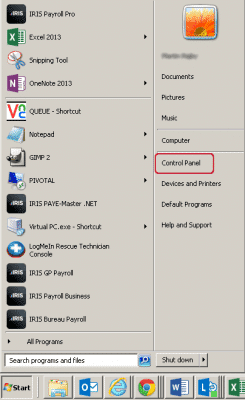 and open the "Clock, Language and Region":
Under "Region and Language", click the option "Change the date, time or number format":

To ensure the corrcet running of payroll the "Format" should be set to "English (United Kingdom)":
Specifically, the "Short Date Format" should be set to "dd/MM/yyyy"
You should also check under "Additional settings…"
Work through the additional tabs and make sure the settings match the following screen shots:
"Numbers"
"Currency"
"Time"
"Date"
We are sorry you did not find this KB article helpful. Please use the box below to let us know how we can improve it.