Error 3024 - Couldn't find file E32-SYS.MDB
Error 3024 - Couldn't find file E32-SYS.MDB
IRIS Payroll Business, IRIS Bureau Payroll, IRIS Payroll Professional, Earnie
When starting payroll user gets the error:

The file E32-SYS.MDB is missing for the payroll program file.
First, make sure the file is present. Right click on your payroll shortcut and select "Properties"
From the properties windows click on "Open File Location"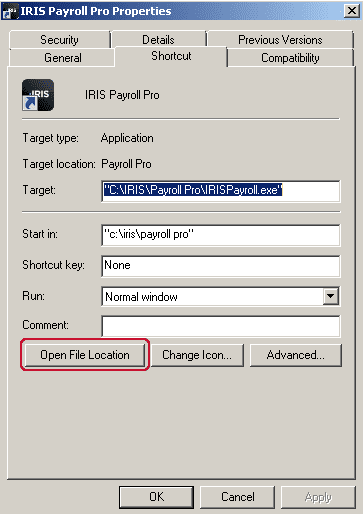 This will find your program folder for payroll. Check through the list of files and folders to make sure the file E32-SYS.MDB is present in the list:
Resolution 1:
If E32-SYS.MDB IS in the folder the solution is to run a full installation of the latest version of your program with full administrator rights to the program folder. You may require your IT support to run this for you if you don't have the necessary permissions.
Click here to download the latest version of your software.
Resolution 2:
If E32-SYS.MDB ISN'T in the folder it needs replacing with either a fresh copy or, preferably, one from a recent backup.
NOTE: IRIS Payroll Business and Bureau Payroll automatically make backups of your payroll data. IRIS Payroll Professional and Earnie require the user to choose to make a backup.
First, find your backup location. If you are unsure where your backup folder is, follow the steps above to open the program folder. By default, the software will save backups in here. Look for a folder called "Backup".
Find the most recent backup in this folder, right click and "extract all….":
On the pop-up window click the button "Extract"
Once the process has completed you should see 3 files:
Right-click on the copy of E32-SYS.MDB in here and "COPY". Browse back to the payroll program folder (see above), right click and "PASTE" a copy of E32-SYS.MDB into the correct location.
You will now be able to start payroll correctly.
NOTE: If you don't have or can't find any backups try searching your system/network for a copy of E32-SYS.MDB to use. If you still can't find a copy a new copy will be needed. As this file contains your licencing information and company database register it can be tricky to recreate. We would recommend you contact our support team for guidance in this situation.
We are sorry you did not find this KB article helpful. Please use the box below to let us know how we can improve it.