Business Tax- Cannot edit values in Creative Expenditure 665 or Creative tax credit 540
business-tax-cannot-edit-values-in-creative-expenditure-665-or-creative-tax-credit-540
Business Tax- Cannot edit values in Creative Expenditure 665 or Creative tax credit 540
IRIS Business Tax: Cannot edit Creative Expenditure or Creative tax credit values - you have values in both boxes but cannot change them
You already have entries in Creative Expenditure box 665 and Creative tax credit box 540 – but you cannot edit the values.
If you try and edit 665 for the Creative expenditure- you get this error- see image below
If you try and edit 540 for the creative tax credit value – all the options are greyed out and you cant access the cells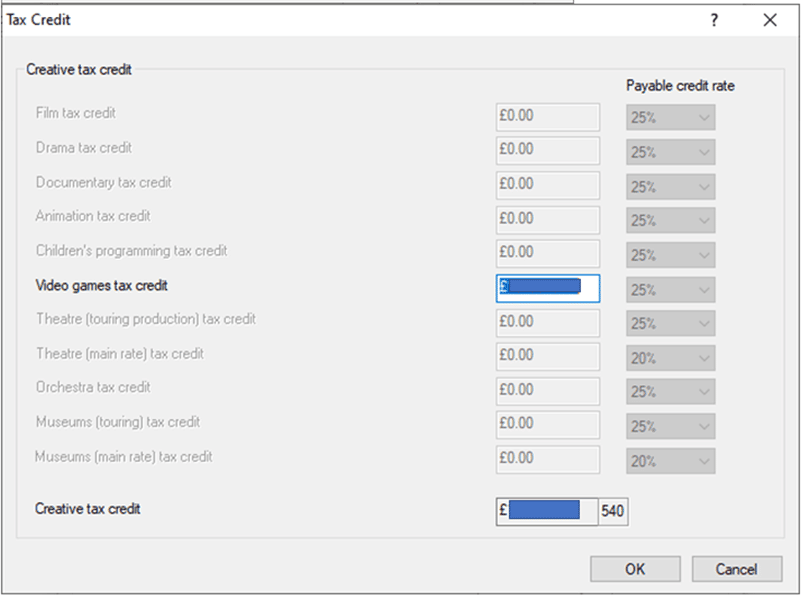 This is because there has been a change of trade income for the company which has locked in your previous creative tax credit value and thus you cannot edit the creative expenditure value- for example you were in loss but now have a profit.
You can try this:
Edit, Postings, Trade income disallowed, Specific postings – Add in a £10000000 value or higher (this will trigger a loss on the tax comp) and OK
Now go to Data entry, Tax reconciliation, 540 edit
You can now delete the Creative credit claim – OK
Now go to Enhanced expenditure
Box 665 edit
Remove the Expenditure claim – OK
Now go to Postings and delete the fake £10000000 entry – this changes the loss back into a profit
Now go to Enhanced expenditure
Box 665 edit
Add back in the expenditure.
BUT If there is a still a gain/profit: you cannot claim the Creative tax credits IF there is a profit showing in the year (it must be a loss), even when you suppress this. The creative tax credit will only be released if there is a loss, the software will not allow the claim and grey out all the creative credit options. If you want to test this – trigger a loss entry eg Trade income disallowed and now access the creative credit screen.
We are sorry you did not find this KB article helpful. Please use the box below to let us know how we can improve it.