IAS-11976: How to Configure the Backup Database - IRIS Scheduled Task
IAS-11976: How to Configure the Backup Database - IRIS Scheduled Task
How do I configure the Backup Database - IRIS Scheduled Task?
Open Task Scheduler – Navigate to Control Panel | System and Security | Administrative Tools | Task Scheduler | Right click the job (Backup Database – IRIS) and select Properties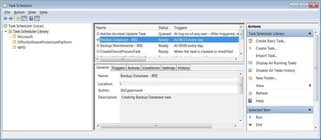 On the General Tab – Make sure "Run Only When User is Logged on" is selected, or if you don't shut down but log off, use "Run Whether user is logged on or not"

On the Settings tab – Make sure "Stop the task if it runs longer than X Days" is selected and also check the "If the running task does not end when requested, force it to stop" box
We are sorry you did not find this KB article helpful. Please use the box below to let us know how we can improve it.