BLOGS
Download our free kit bag to access the latest auto enrolment webinars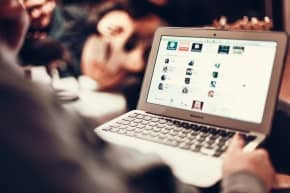 We run regular, free webinar sessions which cover a range of subjects each month. However, if you've ever missed one we've got you covered.
As part of our free Auto Enrolment Accountancy Kit Bag, we've included a number of pre-recorded webinars including:
5 ways accountants can profit with auto enrolment
Hosted by Mark Paraskeva, CEO of our SME Division, we will review auto enrolment legislation and how it's changing businesses, why auto enrolment is a payroll issue, how your practice can benefit from providing auto enrolment services, and an introduction to the industry's most comprehensive auto enrolment solution, the IRIS AE Suite™.
7 ways to streamline you auto enrolment process
Mark discusses the true cost of auto enrolment, how to save 3.5 days each month when running payroll, how to stay secure with employee pension information, and the IRIS approach to auto enrolment.
10 reasons to choose payroll for auto enrolment
Mark looks at different approaches to auto enrolment, how IRIS deal with the challenges it brings, an introduction to the IRIS AE Suite™, and 10 reasons why your practice should be using the IRIS AE Suite™.
Each of the sessions includes the Q&A session which came after the webinars were initially presented so you can see some of the questions other practices are asking. However if you would like the opportunity to ask your own questions regarding the workplace pension reform to Mark or another IRIS auto enrolment expert, we have a wide range of webinars available to register for free on our Webinars Page, including "Find out how to win new clients with a streamlined auto enrolment service" on April 28th at 14:00. The list is regularly updated and we run our sessions at different times of the day to help ensure that you can always find a webinar that interests you, and a time that bests suits your schedule.
Our free Auto Enrolment Accountancy Kit Bag doesn't just contain webinars, there's a huge range of content included such as our popular Payroll Factcard for 2016/17, research papers, case studies, whitepapers and much more. Best of all, everything included in the Kit Bag is free to access and can be shared with your clients as you deem fit.
You can download your free Auto Enrolment Accountancy Kit Bag below.