BLOGS
Fundraising for the Macmillan Coffee Morning (Cakes galore!)
Today, IRIS are taking part in the Macmillan Coffee Morning to raise money collectively for the Macmillan Cancer charity! 
All of the Mary Berry and Paul Hollywood wannabees of the office have provided a plethora of cakes, biscuits, brownies and cookies... We think that there might even be too many!? (can you have too many cakes?)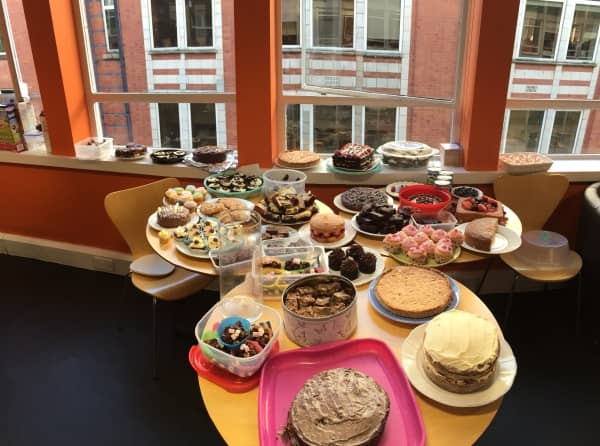 (I had to do a panorama shot for that one!)
The World's Biggest Coffee Morning is Macmillan's largest fundraising event for people facing cancer. Last year, they managed to raise an outstanding £25 million and are hoping to go one (or a few million!) better this year.
[YouTube id="5TCQpcN1r3Y"]
Where did it all begin?
Macmillan say that:
The first ever Coffee Morning happened way back in 1990. It was a rather small affair with a simple idea: guests would gather over coffee and donate the cost of their cuppa to Macmillan in the process. It was so effective, we did it again the next year – only this time nationally. Since then, Coffee Morning has raised over £138 million for Macmillan.
We thought that it was such a great idea to raise money for a cause that affects so many of us that we had to get in on the act and raise some cash!
As you can see from the previous pictures, we are not going to be short on sugar for today!
As well as the cakes, the team managers are also providing a '50p Tea and Coffee Service' - because a cake without a lovely brew is criminal.
Our Sales and Marketing Director here in Manchester; Jayne Clarke has also donned an apron and is providing cooked breakfast toasties for the team (there is only about 70 of us; no pressure...)!
Jayne and our Head of Inside Sales; Sarah Whyte have used one of their "Giving Back Days" that we offer here at IRIS to lay their focus on fundraising. Each employee is offered three "Giving Back Days" which enables you to take a day away from your normal work to take part in a fundraising or charity event.
We believe fully that the impact that we have as a business on the immediate environment is important, therefore allowing our employees to get involved in fundraising opportunities allows us to bring a positive impact.
A couple of the girls in the office are also going to be offering an IRIS Nail Salon, to further fundraising efforts!
If you would like to get involved in a Macmillan coffee morning, you can still donate on the Macmillan website or even use their coffee morning locator to find out where you can go and treat yourself on a Friday morning!