BLOGS
Helping Children with Learning Difficulties and Disabilities
Every IRIS employee has the opportunity to offer time to a good cause; 3 days per year are available.
Yesterday, a team from IRIS (made up of colleagues from marketing, sales, product management, support and development) used an 'IRIS Giving Back Day' to help a local children's service based in Slough.

Breakaway is a service for children with learning difficulties and disabilities. It provides overnight or short breaks for children and young people aged between 6 and 17 years of age.
The unit has now been providing a service for over 20 years and offers a happy, homely, safe and stimulating environment to help all children and
young people achieve their full potential.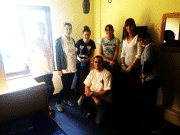 The IRIS team were quick to get stuck in; our team of 14 volunteers painted the dining room and three bedrooms.
It wasn't easy work but it was certainly fun and rewarding. We'd like to thank the team at Breakaway for welcoming us.
Onto the next project... we're looking forward to it!