BLOGS
Innervision by IRIS successfully renews JOSCAR accreditation

Innervision Management Limited, part of the IRIS Software Group, is proud to announce that it has successfully completed the renewal process for the Joint Supply Chain Accreditation Register (JOSCAR), an accreditation system which permits major organisations in the defence, aerospace and security sector to identify approved suppliers and manage third party risk in the supply chain.
The register is strictly invitation only and requires successful completion of a qualification process. The accreditation mark is valued by some of the largest purchasers in the defence community such as NATS, Babcock International, Rolls Royce, BAE Systems, and the Ministry of Defence and indicates that a supplier has gone through the process required to demonstrate its commitment and credentials to the industry.

The accreditation renewal proves Innervision's products and services meet and maintain JOSCAR standards of compliance and governance. To retain the accreditation, Innervision was assessed across a wide range of business and risk management parameters including business continuity, IT security, data privacy & protection, insurance & third-party certification, health & safety, environment & sustainability and product quality.

Being included on the JOSCAR register is extremely important to Innervision as it provides assurance to our existing and future customers that the services and products we provide meet the highest quality standards and conform with stringent industry guidelines.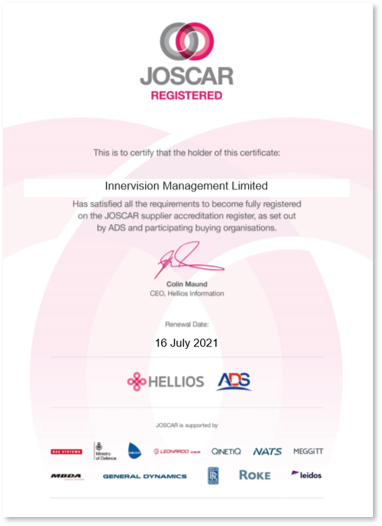 View Innervision's JOSCAR Certificate


More about JOSCAR
For additional information regarding JOSCAR, how it works and the benefits of membership for both buyers and suppliers visit the Hellios website.