BLOGS
Innervision Goes Wild For Conservation With London Wildlife Trust
---

This summer, the Innervision team donned our gardening gloves and grabbed our secateurs as we joined with the London Wildlife Trust to help conserve one of their protected sites in the capital.
Following a successful mid-year review, we headed down to Old Ford Island at the heart of the Olympic park, where we met our guides, Peter and Nadia. After a quick briefing on the local flora and fauna, we split into two teams to begin helping manage the site's conservation.
Team one were in charge of trimming the overgrown grassland. To make it a bit more interesting than simply mowing the lawn, Peter trusted our leasing experts with slashers – big scythe-like tools you had to swing through the tall grass. As interesting and fun as it was to wade through the overgrown field like medieval gardeners, the aching arms soon made it clear why the lawnmower was invented. Nevertheless, we had a great time slashing and raking up the grass and in no time, had cleared a large area of space to help encourage species diversity.
Team two we focused on clearing a path through a treacherous tangle of buddleia, brambles and other dominating plant-life as part of the Trust's species and habitat management. Armed with loppers, shears and saws, we managed to open up the pathway, avoiding the stinging nettles and Japanese knotweed along the way.
This day is the first of many future community engagement events Innervision is planning to promote, as part of our developing focus on sustainability within our business. As well as updating our corporate responsibility policy, we have recently teamed up with City Action, a London-based company and part of The City of London that help link corporate organisations with charities. This partnership will help Innervision further contribute by providing volunteers and long-term pro-bono services.
All-in-all, the Innervision team had a great time and were able to help support The London Wildlife Trust and the amazing work they do the preserve the natural beauty within the capital. A big thank you to Peter and Nadia for letting us get our hands dirty and do some good for the ecosystems.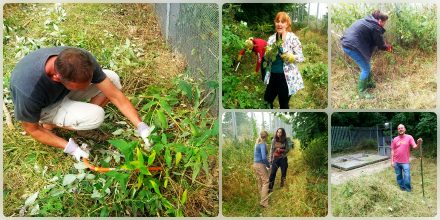 Find out more about the London Wildlife Trust >
Learn more about Innervisions's Sustainability focus >
---
Share this story?