BLOGS
Innervision Sponsoring Official IFRS Implementing IFRS 16: Leases Conference with Grant Thornton
Join us for the IFRS Foundation Conference – Implementing IFRS 16: Leases at the Radisson Blu Portman Hotel, London, on 20th May.
Innervision, in partnership with Grant Thornton have been invited to exhibit a combined lease accounting solution that delivers easy compliance and ROI from the new standard, at the official IFRS Conference – Implementing IFRS 16: Leases.
The one-day international event, run by the IFRS Foundation and hosted by the IASB Chairman, Hans Hoogervorst, aims to advise companies on the practical implications and associated challenges of complying to the new standard, 'IFRS 16 Leases'.
Along with board members Stephen Cooper, Gary Kabureck and Darrel Scott, among others, host Hans Hoogervorst will cover a multitude of key topics regarding IFRS 16 implementation and transition, including:
Technical information: what the new Standard says and the issues you need to be aware of;
Implementation of IFRS 16: advice from industry experts, including guidance on systems implementation and what companies should be doing now; and
Business impact of IFRS 16: how the new Standard may affect your ratings and valuations and how to establish a roadmap for change.
With over 100 delegates and financial practitioners set to attend, from a variety of industries and sectors, the conference offers a unique opportunity to gain a comprehensive understanding and critical insight into the new accounting standard IFRS 16 from those who devised it.
The conference provides you with the perfect opportunity to ascertain how your organisation will be impacted by the changes, provides you with a firm understanding of the strategic choices available, and delivers all the information needed to establish a comprehensive plan for change.
IFRS 16 will see operating leases brought onto balance sheet. 1 in 2 companies will be affected, yet over two thirds have yet to prepare for the biggest ever change to lease accounting.  As official sponsors of the event, Innervision and Grant Thornton will be there to discuss their specialist solutions to achieving full compliance.
How Innervision and Grant Thornton can help you?
The key to a successful conversion is strong project management and collaboration with a team you can work with, supported by an intuitive lease accounting software package.
Grant Thornton's experience and assurance that judgements and estimates are right for you combined with Innervision's software, which collates, centralises, analyses and reports on all your active lease agreements, will help you achieve full compliance to new global lease accounting rules with one unified platform.
Innervision's lease management solutions and software (LOIS) provides you with a built-in lease accounting tool that will run all the complex calculations and reports for you at the touch of a button. LOIS has the capacity to manage the entire transition to the new lease accounting standards: IFRS 16 and FASB Topic 842, allowing you to centralise, analyse and report on every lease within your portfolio.
Grant Thornton do not believe in a one size fits all solution. Their dedicated team has developed a core methodology that is flexible to reflect your specific needs and focusing on the issues most pertinent to your business during this process.
The implementation of a financial reporting change such as IFRS 16 can be a complex and time consuming project. There are many practical and technical challenges to overcome.
Our combined methodology for GAAP conversion takes account of and resolves these challenges and make this process as simple as possible, generating real cost saving opportunities.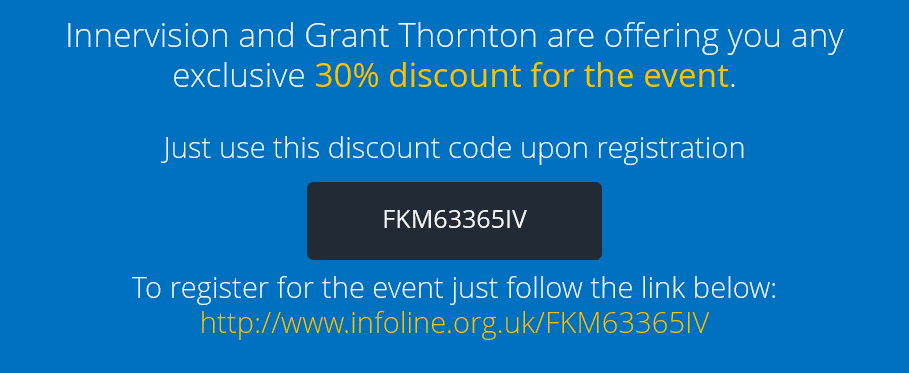 Come and visit Grant Thornton and Innervision on the day to discuss how our combined services, solutions and methodology will help you to comply with the newly released lease accounting standards; IFRS 16 and FASB Topic 842.