IRIS Software Group named as one of UK's Best Workplaces™ for Women 2023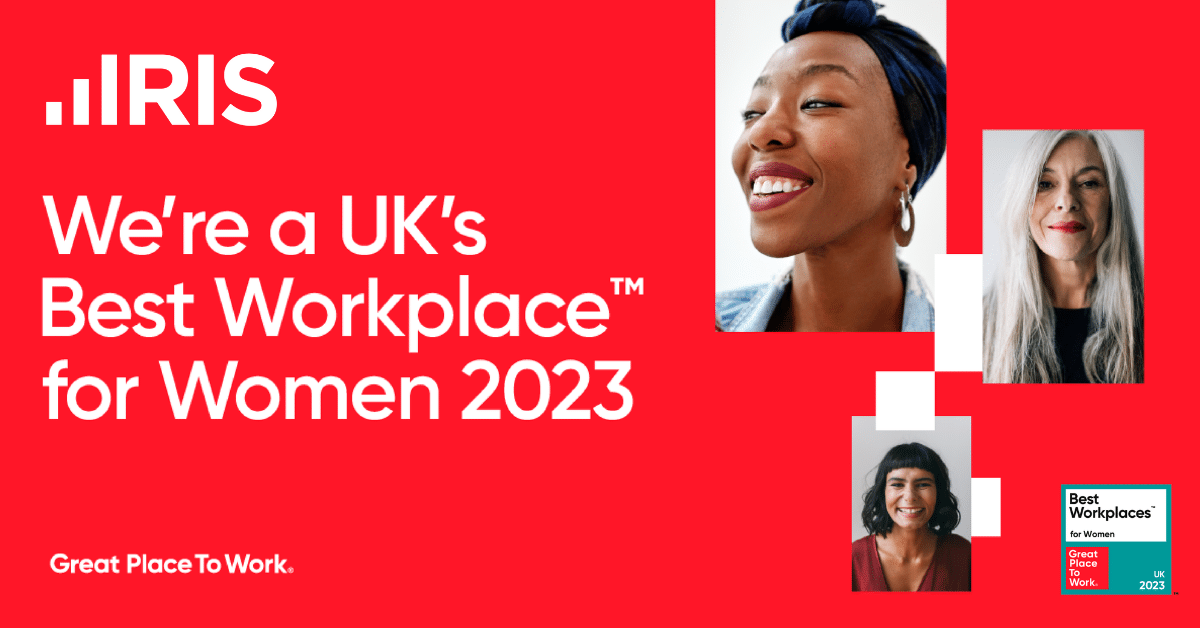 IRIS Software Group (IRIS) has been certified as one of UK's Best Workplaces™ for Women for the third year running! 
IRIS is now ranked 30th out of 55 in the Super Large (1,000+ employees) category. 
Great Place to Work® is the global authority on workplace culture, helping organisations to create exceptional, high-performing workplaces where employees feel trusted and valued. 
The UK's Best Workplaces™ for Women certification is driven by a variety of factors including an anonymous employee survey, measuring workplace experience and asking employees to share opinions on wellbeing, diversity and inclusion, and trust in leadership.  
In the last 12 months, IRIS has delivered: 
Its THRIVE programme – aimed to increase gender representation at all levels and empower women to pursue their goals and succeed. The programme includes regular workshops with inspirational guest speakers tackling topics such as imposter syndrome, and networking events 
Returnships – an initiative where working parents, particularly women, are supported and encouraged back into the workplace after taking a career break.  
A partnership with the Women's Work Lab, a charity dedicated to providing women who face significant barriers to entering the workplace with opportunities to gain work experience to achieve their career goals 
Its Women's Affinity group – designed to create a sense of belonging and a safe space where members can network, socialise and share ideas to improve their working environment 
Additionally, an incredible 45% of employees at IRIS are women – above the tech industry average of 25%.  
Stephanie Kelly, Chief People Officer at IRIS, said: "We are so proud to be recognised for this prestigious award, and we are dedicated to providing a positive, supportive and flexible working environment that promotes a range of initiatives, programmes and support groups to help our women flourish. We recognise there is always more to be done and encourage our employees to share their experiences and ideas so we can continue to close gaps and celebrate equity globally." 
If you're looking to be part of an organisation with equity at the forefront of its priorities, you can visit IRIS' careers page here.