Setting up attachment of earnings (AEO) for an employee
Setting up attachment of earnings (AEO) for an employee
How do I set up AEOs for employees?
In the employee details, click on "Pay Details"
From here click on "Attachment Orders"
Click the "Add" button:
From the drop-down menu select the type of attachment you want to use and fill in the required details:
Click "OK" and the attachment is added to the list. The next time you calculate payroll the system will process the attachment as per your instructions here.
Please Note: Certain options in the "Type of Order" will not allow you to set a deduction amount. For example council tax attachment:
With these types of attachment, the deduction value is selected from a % table issued by HMRC depending on the employee's net pay (i.e. after tax and NI deductions). You cannot control the amount deducted, it is selected from the appropriate tier based on the employee pay.
---
Attachment types that use % tables (2019/2020 tax year)
Community Charge (CCAEO)
Council Tax (CTAEO)
Earnings Arrestment (EA – Scotland)
Direct Earnings Attachment (DEA)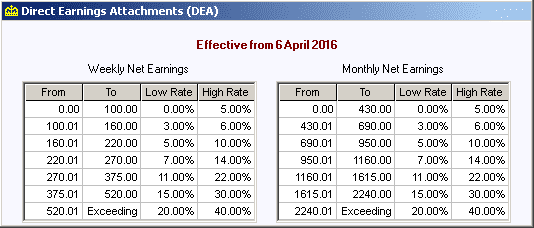 Please Note there are 2 types of DEA, you will be told if you should use the % table type or fixed value type in the instruction to make deductions.
---
Attachments with a total outstanding balance to pay
Some attachments specify a total amount the employee has to pay back. For these attachments make sure you tick the option "Tick if you need to enter a total amount owing on the attachment".  
 Once ticked, the fields for "Original Amount Owed" & "Remaining Amount Owed" will be activated and you can complete the values required.
Each time you process payroll the value in "Remaining Amount Owed" will reduce and the attachment will automatically stop once this reaches zero. The software will adjust any final payments automatically so the employee doesn't overpay the attachment.
We are sorry you did not find this KB article helpful. Please use the box below to let us know how we can improve it.