How to move the location of live PAYE-Master data files
How to move the location of live PAYE-Master data files
How can I migrate my PAYE-Master data files to run from a new location?
Moving PAYE-Master Data – Multi Company Bureau Licence
• Start PAYE-Master but DO NOT OPEN any company data. 
• Go to "Utilities"> "Move Data File". 
• Select the company you wish to move. If you hold down the Control (Ctrl) key on your keyboard you can select multiple companies to move at once.
• Click "Move"
• On the "Browse for Folder" window select where you wish to move these files to and click "OK"
• PAYE-Master will move the selected files to the new location.
---
Moving PAYE-Master Data – Single Company
Unfortunately, with a single company license the utility "Move Data File" as described above will not work. Please follow the steps below:
Locate the live data file, go to  "Help" > "About IRIS PAYE-Master…." the location of your live data file is listed under "Data File":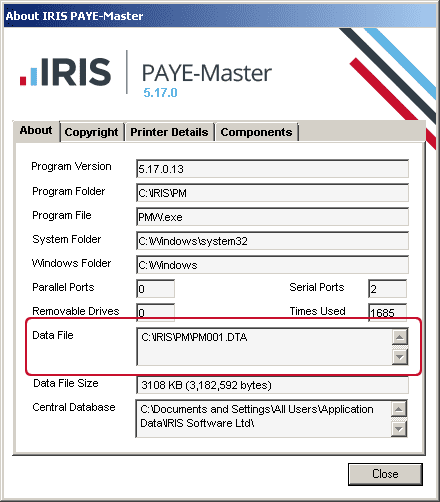 From the example above, the file path breaks down like this: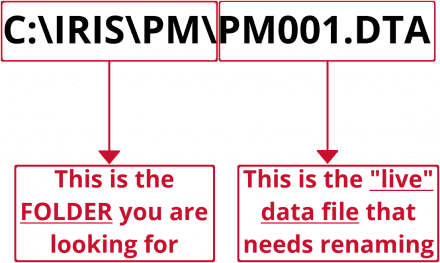 Make a note of this text and close PAYE-Master
Browse to the folder we found in the about window, find the live data file, right click on this and "Rename". E.G from PM001.DTA to PM001.OLD.
Restart PAYE-Master – the company will now be listed in red to indicate the file cannot be found and/or you will see the following message:
Click "No"
Go to "Utilities" > "Database maintenance" > "Clean Central Database"
PAYE-Master will now appear as though there is no data, we need to reimport the live data file from the desired new location.
Copy your most recent back up to a suitable folder and re import in PAYE-Master.
We are sorry you did not find this KB article helpful. Please use the box below to let us know how we can improve it.