No Days to pay when entering holiday in the absence diary
No Days to pay when entering holiday in the absence diary
IRIS Bureau Payroll, IRIS Payroll Business
I've entered an employee holiday in the absence diary but it's not recognising how many days to pay them:
Please double check what you have set up in the employees details absence tab: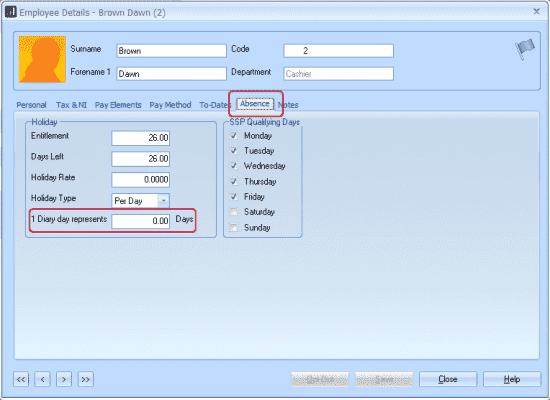 The value here should not be zero. If zero is entered the system will not be able to calculate the holiday entitlement remaining or count how many days holiday it needs to pay.
If the holiday type option is set to "Per Day" this value would normally be set to 1.00. 
If the holiday type is set to "Per Hour" you will need to decide how many hours one diary day would take form the employee entitlement.
We are sorry you did not find this KB article helpful. Please use the box below to let us know how we can improve it.