How to set OpenSpace up to receive notifications from all/specific clients
how-to-set-openspace-up-to-receive-notifications-from-all-specific-clients
How to set OpenSpace up to receive notifications from all/specific clients
How to set OpenSpace up to receive notifications from all/specific clients
There are settings for individual user's in OpenSpace to receive notifications from 'ALL' or certain clients.
To check to make sure you should be receiving the notifications from clients you expect, check the user's settings;
Log in to IRIS OpenSpace as an ADMIN user and click – Settings | Users
Click the radio button for the member of staff you expect to be receiving notifications, and click 'Edit staff'
There is a box to receive notifications from all, or you can individually find a client(s) and tick to receive from specified ones.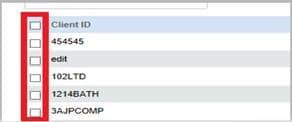 Once all completed and you click update, you should receive notifications from the clients that are covered in your selections. If you are still not receiving the e-mail notifications, then click HERE for steps to find out why
We are sorry you did not find this KB article helpful. Please use the box below to let us know how we can improve it.