PTP VF - CSV Import Error The Microsoft Jet database engine could not find the object
PTP VF - CSV Import Error The Microsoft Jet database engine could not find the object
When selecting a csv file for import into the PTP VAT Filer software, a message similar to the one below appears: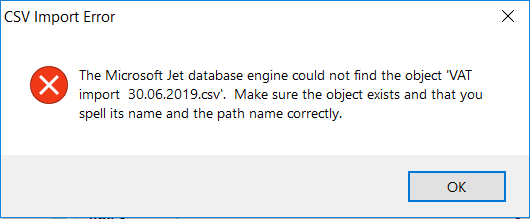 This message most likely indicates a problem with the name of the csv file.  The most common trigger for this is the use of full stops in a date as in the example above.  In this example changing the name from 'VAT Import 30.06.2019.csv' to 'VAT Import 30062019.csv' resolved the error message.
We are sorry you did not find this KB article helpful. Please use the box below to let us know how we can improve it.