BLOGS
Your competitors are using LinkedIn to generate new business – are you?
We can't ignore how important social media has become. For those of us who serve the business community, LinkedIn has become a vital resource to connect and share ideas and information.
Over the next few months, we'll be sharing some hints and tips to help accountants and bookkeepers get the most out of LinkedIn. Watch this space for news of a special webinar that brings all this together later in the year. 
LinkedIn has become a recognisable source of new business for accountants big and small.
So in order to directly engage with the right people, it's important to work out who your clients are and what they're interested in reading.   
Do you use LinkedIn?
No, don't scroll past because you don't think it's for you. It very much is for you.
And your clients too!
Did you know that people will find out about you in this day and age before they come to see you or pick up the phone, or even sign up?
Yes, they do.
Think about the last time that you made a sizable purchase. You were probably all over the internet researching the product and service, and maybe even the people involved.
Buyers today are so much more discerning than they used to be and with the power of the internet in all of your client's pockets, they are doing the same thing too.
Your profile matters
Here's a basic profile of someone I found on LinkedIn.

Is this you?
What is it telling people about YOU?
Or are you more like Amy of Senta?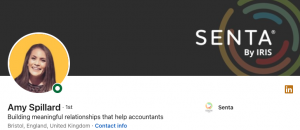 We can immediately see what a friendly person Amy is, what she does, and that she works for Senta.
This is so important because people buy from people who they know, like, and trust. 
How can they get to know you if you do not share your photo?  What will they think when they see that you haven't even set up the basics on LinkedIn?
Your profile needs updating and tweaking regularly as this is one of the first places that people gravitate to when working with a professional.  If they see a friendly face and a profile that they can identify with, they are more likely to want to work with you.
With a great LinkedIn profile, you will stand out from the crowd of other accountants on the platform and therefore start generating more interest, and more importantly, people will see you as a trusted advisor.  People who you don't even know right now.
How to improve your profile - immediately
Sort out your banner
Your banner can be changed very simply.  Drop in a photo, a clip from your website, or use a graphic design program to design your own. Make it bright and striking so that your profile stands out from the crowd.
Get your photo filling the circle
Your photo needs to be bold and bright and if you have a strong colour behind you people will notice you more when they see your comments.  Aim to get your face to fill 60% of the space in the circle.
Have your contact details up to date
Make sure that your contact details are up to date so that people get in touch with you.  Your details are only visible to first-tier connections so get them visible.  There's nothing more frustrating than not being able to easily find contact details!
Next month we'll be looking at engagement on LinkedIn.
Note: In this article, we reference one of our sister companies Senta. "Who are Senta?" we hear you ask. Senta are specialists in practice management software for accountancy firms and a company we recently brought into the IRIS family. You can find out more at Senta or take a look at our cloud practice management software as part of our IRIS Elements cloud platform for accountants.