BLOGS
SMEs Get 7 Year Extension on IFRS Lease Accounting Standard Transition
---

With the changes to IFRS lease accounting soon to be announced, it appears that SME's under IFRS jurisdiction may be getting a few more years to prepare for the new global accounting standard. The process of deliberating and finalising the new standard has been a long one and as the International Accounting Standards Board (IASB) and the Financial Accounting Standards Board (FASB) approach the concluding stages of implementation, organisations are preparing for the changes, but the updated IFRS SME standard is likely to maintain IAS 17, potentially until 2022 – that's another 7 years.
---
SME's and unlisted companies under IFRS jurisdiction utilise a different general accounting standard to listed companies and multinationals. The simplified IFRS SME accounting standard does not include all the aspects of IFRS; however, it does contain the full terms of the current IAS17. The IASB has targeted that this standard will be reviewed once every 6 years and as the most recent update has already been finalised with the effective date of January 2016, the new lease accounting standard will not be included until the 2022 review.
The Leases project was still being deliberated during the finalisation of the SME standard and therefore, this edition of IFRS SME has omitted the new standard and will continue to incorporate the existing IAS 17.
The effective date of the IFRS new lease accounting standard for listed companies is yet to be decided, but the IASB is confident the finalised guidelines will be announced by the end of the year and industry experts suspect implementation will occur in 2018 at the earliest. In the meantime, lessees are being encouraged to analyse their current lease portfolios in order to prepare for the transition to the new leasing standard, allowing time to transfer their existing leases to accommodate the new standard.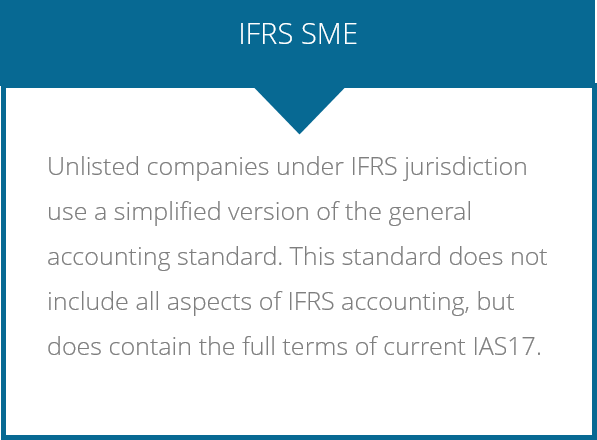 The deliberation process for the new leasing standard has been long and unpredictable; with several internal board meetings, feedback reviews and two exposure drafts, some critics will remain sceptical that the new standard will be fully finalised before 2016. The fact of the matter is that the way leases are accounted for is changing and operating leases will no longer be treated off balance sheet. Businesses should use this time to formulate and prepare their existing portfolios and new lease arrangements to ensure compliance.
Gathering the necessary lease documentation and conducting data analysis is vital not only to achieving full leasing compliance, but for making sure you are getting the best leasing deals for your procurement and operational needs. However, this process will take time and should be started sooner rather than later. Manually engaging in the data mining and reporting procedures can be a costly hassle, especially seeing as there are numerous software and services options available to make this a great deal easier.
Lease portfolio management software is an up and coming trend amongst businesses and finance professionals. With cloud computing a growing trend that is helping to improve productivity and provide cost-effective solutions for many aspects within an organisation, these changes to lease accounting are a prime opportunity to consolidate your lease portfolio and optimise your new and existing agreements.
---
Businesses that have a large lease portfolio and arrange new leases on a consistent basis can benefit from Innervision's expert lease consultancy services and specialised software as a service platform, LOIS. With numerous features, including data migration, unbiased expertise as well as simplified lease consolidation and data reporting, there are many reasons well known brands trust Innervision to save money and aid in their lease management.
For more information about lease management software as a service (SaaS) platforms and Innervision's very own Lease Optimisation and Information Software, download our ultimate guide to lease management software by following this link.
Or, you can visit our benefits page to see how Innervision's clients are benefiting from Innervision leasing expertise and experience. 
---
Share this Blog?