CASE STUDIES
Meet Abbey Catholic Primary School's 'ParentMail King'!
Since September, Abbey Catholic Primary School have been on a campaign to register parents to ParentMail and their efforts have received a fantastic response!
As ParentMail Co-ordinator, Deputy Headteacher, Joe McTernan, has worked closely with the staff team to make the most of their complete ParentMail package to improve parental engagement.
In a recent survey, 87% of our customers agreed that the key to the success of a new communications system is strong parent uptake. Since the launch of ParentMail a few months ago, Abbey Catholic Primary School saw parent registration increase slowly; following a campaign to get all parents registered, today 99% of parents are signed up and 80% are using the App!
The school is committed to adopting a paperless environment and ParentMail has been key to achieving this. They now send out all newsletters, competition and club communications via ParentMail, making it very important for parents to register. Although 'playground chatter' has been key, the team made the most of a recent parents' evening to help parents make the most of the ParentMail App.
"We had our first parents' evening since the introduction of ParentMail and it seemed like the perfect opportunity to answer any questions parents had about using their accounts." Says Deputy Headteacher, Joe. "So, I was coronated with the title of 'ParentMail King' for the evening, complete with paper crown! I was on hand to answer questions and have a chat. Most parents who stopped by to ask questions just needed some support to get used to using their accounts. I mainly dealt with teething problems, but I also sat with two of the three families yet to register with ParentMail and helped them to set up their accounts there and then! It was a great idea and a huge success."
The primary school also has a great social media presence and tweeted about their 'ParentMail king' during the evening to let parents know that support was available if they needed it – another brilliant way of sharing news and improving parental engagement!
"Although we're at the end of our ParentMail roll-up now, we've worked hard to get to this point and made it a priority since September to get parents registered on the system." Says Joe. "We have played hardball with a few parents who weren't signing up. For example, we chose not to send paper copies of communications home with students. Instead, we sent a message to parents to let them know that there was a letter in the school office for them to collect. This worked really well, as our office staff took the opportunity to encourage parents to download the App and many families registered with ParentMail as a result. It's far more convenient for them – sometimes people just need that extra push to give something new a go!"
Parents at Abbey Catholic Primary School can now manage communications with ease and stay up to date with school news, events, competitions and payments, which supports school staff as a result! In particular, organising PE and after-school clubs has been far smoother and easier for everyone involved, with all parents responding to forms and event information quickly and efficiently online. And, should parents ever have a question about using their account, they know help is at hand at the school!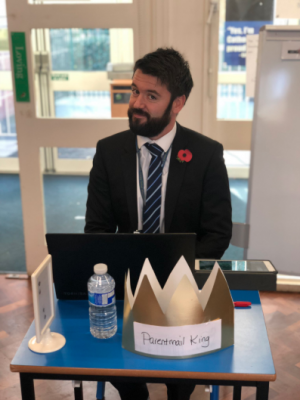 Deputy Headteacher and 'ParentMail King', Joe McTernan, ready to answer questions and give advice on parents' evening!
If you're a school looking to improve parent to teacher engagement follow the link to find out more. We also have a wide range of software for schools and MATs for smarter engagement, financials, and management.