BLOGS
Innervision are Exhibiting Lease Accounting Solutions at Accountex 2016
On Wednesday 11th and Thursday 12th May, Innervision will be exhibiting our lease accounting solutions at Accountex, the UK's largest, independent, cross-sector supported event in the accountancy industry.
Taking place at the ExCeL Centre in London, this is one of the fastest growing and prolific events for accountancy and finance professionals and is completely free to attend. Innervision is proud to be attending, advising businesses in how they can achieve compliance and ROI from the newly released lease accounting standards; IFRS 16 and FASB Topic 842.
Accountex brings together leading members within the Accounting industry; from Senior Partners of leading practices and Financial Directors of important companies, to practitioners and managers across the sector. The exhibition and conference provides a useful opportunity for key members to further their knowledge and careers, experience advancements, disruptors and milestones within the industry and network with like-minded peers and meet the innovators transforming the sector.
The two day event will feature over 200 leading industry suppliers, more than 150 CPD certified seminars and 25 interactive workshops. Accountex attracts over 5,000 accounting professionals and offers the latest and greatest in accounting, from sectors such as:
Cloud Computing
Financial Software
Recruitment and Training
Financial and Banking services
Company Formations
Sales and Marketing
Branding and PR
CRM
Tax Specialists
Innervision's leasing experts will be there, offering advice, information and solutions to all things leasing. With the recent publication of the finalised lease accounting standards and the pressing need for organisations to take preliminary action in order to meet compliance deadlines, lease accounting is sure to be a hot topic at this year's accountancy conference.
The newly published IFRS 16 and FASB ASU Topic 842 will provide greater clarity, consistency and comparability of the liabilities and ROU assets that arise from leases in fiscal documentation.
Under current accounting standards, 85% of leases are not accounted for on the balance sheet. These new standards will require all leases, including operating leases to appear on balance sheet, bringing an estimated $2.8 trillion of lease commitments onto balance sheets globally.
This is likely to be a resources, time and expenses consuming burden and companies who are not yet prepared are at risk of overspending, overburdening and facing non-compliance. Innervision will be showcasing a cost effective solution that ensures businesses are not only prepared and fully compliant, but also primed with a long term lease management solution to provide the desired ROI from the transition.
Attendance to accounts is completely free and a necessity for those with a finance function. Be sure to stop by stand A122 to meet our leasing experts, see LOIS in action and receive an exclusive to Accountex introductory offer.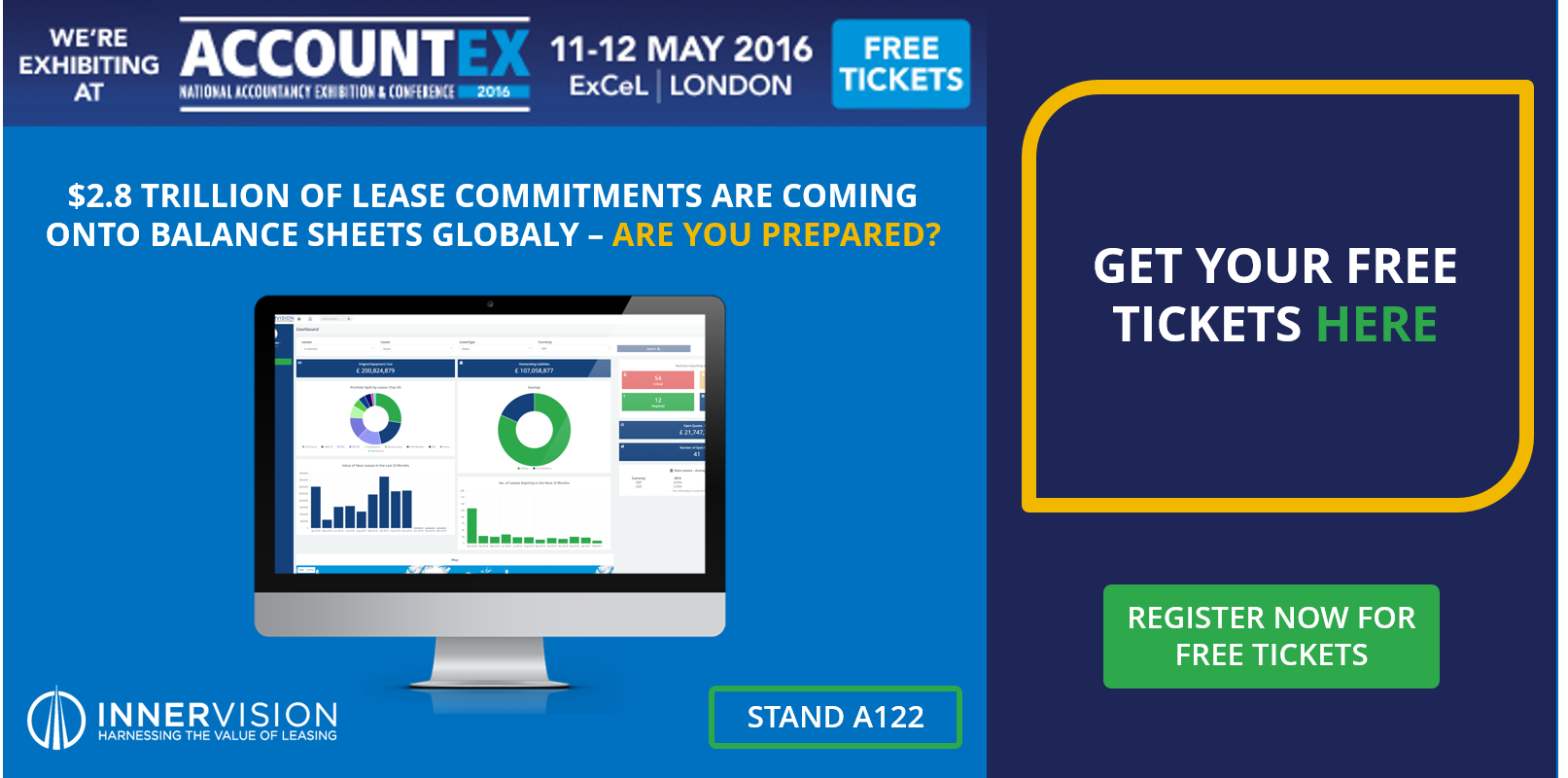 More on New Lease Accounting Standards:
IFRS 16 vs. FASB ASU Leases Topic 842: The Differences (Infographic)
IFRS and FASB Have Released New Lease Accounting Standards - Now What?
Excel is Not the Best Solution for New Lease Accounting Reports (IFRS 16 & US GAAP)
1 In 2 Companies To Be Affected By IFRS 16 Leases, But Majority Unprepared
---