BLOGS
Finance Leases Vs. Operating Leases (Infographic)

Leases come in two categories:
Finance leases (also known as Capital Leases) and Operating leases.
This differentiation is important when it comes to accounting for leases as each type of lease is treated differently - at least until the implementation of new global lease accounting standards IFRS 16 and FASB ASC 842.
Both the International Accounting Standards Board (IASB) and the Financial Accounting Standings Board (FASB) provide different criteria for lease classification, for practical purposes, their interpretations are very similar. However, these differences will be important for lease accounting and accurate lease portfolio management.

It is important to note that these descriptions are relevant for current lease accounting standards; IAS 17 for IFRS users and Topic 840 (formerly FAS 13) for US GAAP users. Over the last 10 years, the IASB and FASB have been working together to develop a new lease accounting standard that will require all lease commitments to be recognised on balance sheet. As of January 1st 2019 and December 15th 2018 IFRS and US GAAP these new standards will take over the current guidelines.
Under current accounting requirements, a lease is classified as a finance lease if it meets certain conditions, such as ownership of the asset being transferred to the lessee during or at the end of the lease term, or the lease is for a significant portion of the estimated asset economic life. If a lease doesn't meet any of these conditions, then they are classified as operating leases.
There are benefits to both types of leases and depending on your internal business requirements, you may find that one option is more convenient for some assets. To help you come to a decision, our leasing experts have put together this infographic showing the main differences between operating leases and finance leases.
You can also find more detail on the differences between finance leases and operating leases here.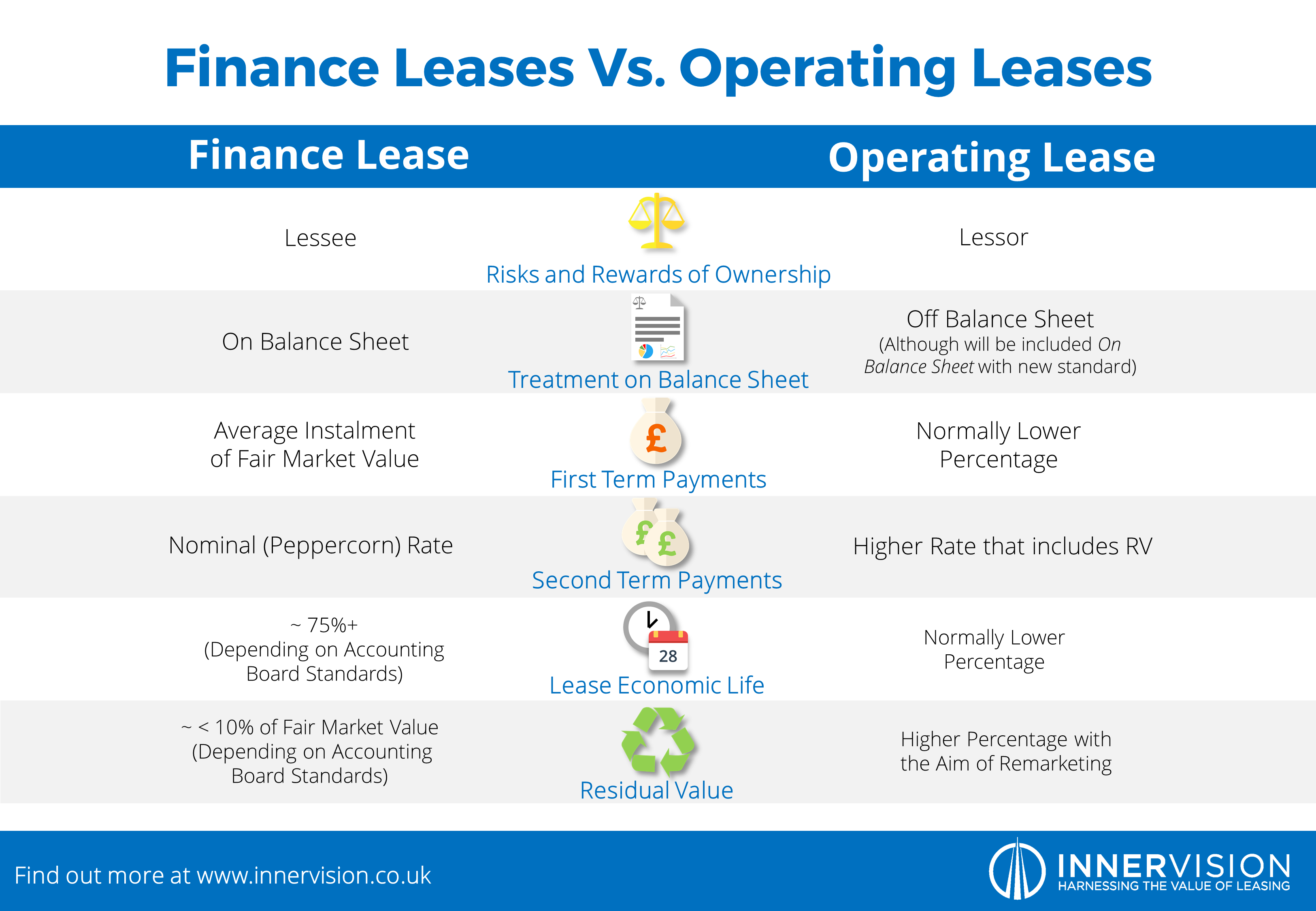 The upcoming changes to global lease accounting will alter the way businesses account for their lease agreements, particulalrly operating leases. $2.8tn worth of assets will be brought onto balance sheet as virtually all leases will need to be recognised in financial statements. It is vital that companies are aware of how many of tehir leasea are operating and how their lease portfolio will be affected. Learn more about how and why businesses will be affected and the next steps to take here.
For more information on how the new global leasing standard will affect your company's new and existing leases, our leasing experts have put together this guide, which you can download here. 
---
 Share This Article:
---