IRIS Ed:gen for senior leaders
Better data.
Better decisions.
Better outcomes.
A whole school management tool to empower staff and support students to thrive.
Ensuring every student thrives
Customise your MIS and gain a complete view of each child, all in one system. From attendance to academic progress safeguarding, and medical management, IRIS Ed:gen helps you proactively manage academic performance, safety and wellbeing of all students; giving every child the best possible chance to shine.
Supporting staff to work smarter, not harder
Reduce the workload burden on your staff and empower them to excel in their roles with access to smart technology that automates and speeds-up multiple processes and is accessible anytime, anywhere on the cloud.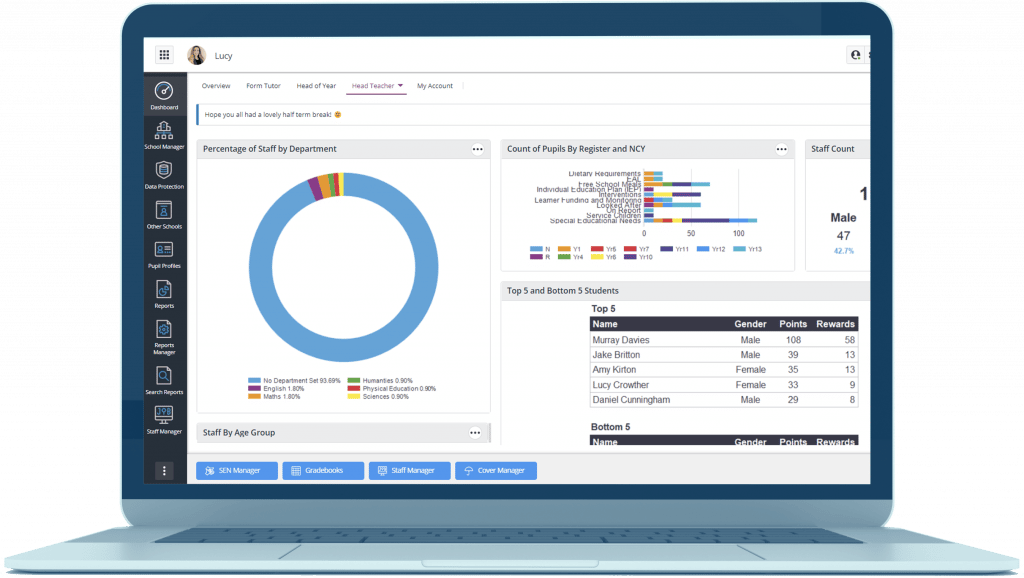 Instant access to data-rich reports
Save time and become better informed than ever before with real-time reports and powerful analytics at the click of a button. With customisable daily dashboards, school leaders achieve rapid and complete visibility over everything that's happening in their school – from attendance and house points to staff count, enabling smarter decision making.
"Ed:gen and Central have revolutionised the way data and insights are used within our trust, and we're really excited about what else we're going to be able to do over the next few years."
Key Benefits
Driving whole school improvement
Traditional MIS applications add little value outside of the back office. Our flexible, next generation MIS is designed to deliver whole school improvement by transforming all school functions. And, with everyone using the same system to better manage their remit, data remains centralised, accessible, and up-to-date.
An MIS that will grow with you
With over 40 dashboards, IRIS Ed:gen is a comprehensive yet easy-to-use system. You can access the dashboards that are most relevant to you and create bespoke data views to match your unique requirements. Crucially, as your organisation grows, IRIS Ed:gen is easily customisable and can flex to meet your evolving needs.
IRIS Ed:gen – meeting the needs of all stakeholders
See how IRIS Ed:gen supports other roles in your school or trust.
Unparalleled functionality at your fingertips
IRIS Ed:gen is a game changer in school management information systems; supporting back office staff, teachers, school senior leadership teams, and trust management to work smarter. Not harder.

The modular design – incorporating more than 40 modules as standard – combined with seamless integration, delivers unparalleled functionality and a future-fit MIS capable of meeting your evolving needs.
General School
Management
School Manager
DSAR Manager
Admissions Manager
Pupil Manager
Pupil Profiles
Attendance Manager
Census Manager
Dashboards
Custom Reporting
Cover Manager (S)
Staff Manager
Export to Excel
Communications
Parental Engagement
Parent Portal
Student Portal
Staff Portal
Email and SMS
Calendar Manager
Communication Workflows
Daily Bulletin Manager
News Manager
Teaching, Learning & Assessment 
Teacher App
Rewards and Conduct Manager
Teaching Manager
Gradebooks
Curriculum Manager
Training Manager
Exam Manager (S)
Detention Manager
Pupil Reports Manager
Exclusion Manager
Timetable Manager 
Safeguarding & Pastoral Care
Wellbeing and Safeguarding Manager
Medical Centre
SEN Management
Pupil Lists
Trust Wide Reporting
Student Centred Analytics
Staff & HR Analytics
Assessment, Progress & Attainment
Financial Analytics
Cashless Catering Analytics
40+ Pre Configured Dashboards
Build Your Own Dashboards and Reports
Drill Down Capabilities
Why IRIS Education?
IRIS Education is committed to supporting schools and trusts become even smarter with our next generation Ed Tech solutions.

12,000 schools, 75% of UK MATs and over four million families trust software from IRIS Education. From managing staff HR and payroll, to school and trust finances and pupil and parent engagement platforms, our software supports schools and trusts to optimise processes, relive pressure from staff, improve the connection between school and home, and drive continuous improvement.

Processing over
£15 million
of payments a month for schools and trusts across the UK
Helping
4 million
families to connect with their children's schools
Delivering
300 million
messages between schools and parents every year
Providing over
12,500
schools and two-thirds of UK MATs with the cornerstone of efficient operations
RESOURCES
Next generation MIS resources
To learn more about the benefits of switching to our powerful, cloud-based school management information system, take a look at our library of MIS resources.
Our partners