BLOGS
Have you seen The Pension Regulator's April update?
The Pensions Regulator's April update indicated that nearly 11,000 employers had met their auto enrolment duties by the end of March with an additional 3.2 million eligible job holders automatically enrolled onto a pension scheme.
These figures are, however, just the start, with automatic enrolment set to gain pace rapidly over coming years:
32,000 medium sized employers are due to stage this year

44,500 companies will stage in 2015

A further 450,000 businesses will need to be ready in 2016

A massive 850,000 companies will reach their staging date in 2017
It is unsurprising with these huge numbers that many industry experts are predicting a capacity crunch with pension providers and IFAs reaching maximum capacity long before the smallest companies are due to stage.
It is therefore hugely important that companies start their automatic enrolment journey as soon as possible, looking at how they are going to tackle the milestone tasks of:
Understanding the legislation

Finding a pension provider

Assessing employees every pay period

Sending the correct communications to employees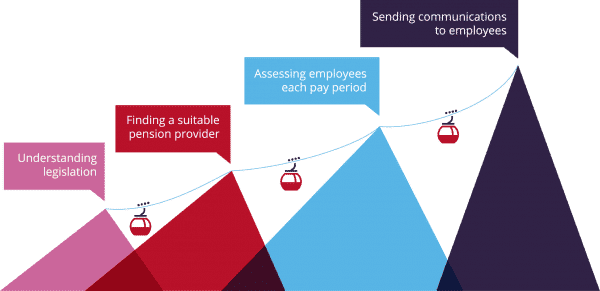 FT Adviser states "Small and medium-sized enterprises staging from April 2014 need an easy solution to assist in meeting their obligations, both initially and ongoing.  Our own experiences in advising larger clients in the early days of auto enrolment has pointed to the requirement for a streamlined process, that will deliver what SMEs want and need: a simple compliant, process-driven solution."
IRIS offers a complete automatic enrolment solution to help companies scale the automatic enrolment mountain:
Find out more by contacting the IRIS automatic enrolment team on 0344 815 5700.
Learn the legislation with IRIS automatic enrolment seminars
Assess employees and send communications with the IRIS AE Suite.